Ever crave a fresh batch of
home-made cookies
? Or perhaps you want a party with a beautiful braided
challah
for your table. Or maybe you want a personal, customized, and beautiful
cake
for you or your special someone. Either way, come try one of E's baked goodies at
Om Nom Nom
(otherwise known as
OmNom
or
Nom
). Whether you're tired of store-bought bread or have a sweet-tooth to satisfy, E guarantees satisfaction.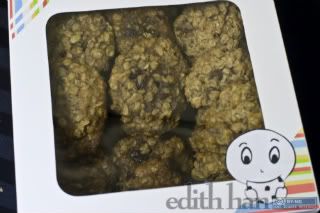 Orders must be made at least a day in advance—the earlier the better. Orders can be picked up in Emeryville, or possibly delivered, depending on time and location. So please, don't hesitate to email me with questions or with specific orders! I try and accommodate to all your specific needs and wishes… I don't mind the hassle, and I love a challenge. :)
Disclaimer: I am not a professional and certified caterer; I pretend to be one. Orders are eaten at your own risk.
A dozen cookies, $9; 2 dozen cookies, $16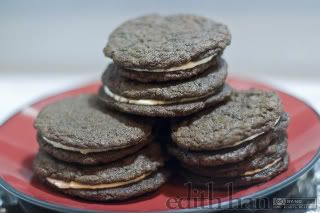 Chewy Oatmeal Raisin cookies
The ultimate thick, chewy oatmeal raisin cookie
Chocolate Chocolate Fudge Chocolate Chip Cookies
Fudge-y, cake-y cookie oozing with chocolate for the choco-holics!
Homemade Oreo Cookies
A slightly softer version of the well-known chocolate sandwich cookies ($17 for 2 dozen)
Soft Ginger Cookies
A delightful ginger cookie full of spices
Vegan Chocolate Raspberry Cookies
Chewy vegan dark chocolate cookies with a hint of raspberry
Made in a 8'x8' pan, $12; 9"x13" pan, $21 (unless otherwise noted)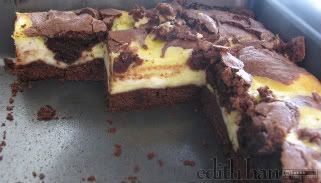 Cinnamon Apple Bars
Light cake bars with a mouthful of apple chunks in every bite, sprinkled generously with a cinnamon-sugar topping
Cheesecake Brownies ($13 for 8"x8" pan)
Chocolate brownies with a rich cheesecake swirl
Can be made as a strawberry cheesecake brownie as well
Fudgey Fudge Chocolate Brownies
A brownie for those who like it fudgey, thick, and moist
Snickerdoodle Blondies
Blondie "brownies" with a cinnamon-sugar topping
A dozen muffins, $11
Blueberry Muffins
Soft muffins dotted with a load of blueberries with a crumb topping
Oatmeal Berry Muffins
Low fat, oatmeal muffins with berries and a touch of orange
Whole Wheat Apple Muffins
Dark, moist, whole wheat muffins with chunks of apples with a cinnamon-sugar topping
Enjoy a loaf of fresh, home-made, hand-kneaded artisan bread without all the preservatives you find in loaves at the store. There are yeast breads, great for sandwiches and toast, and there are quick-bread loaves, which tend to be denser and great to munch on. Price varies depending on bread.
Yeast Breads
Anadama 9"x5" loaf, $7 (2 loaves, $12)
A slightly sweet, soft, cornmeal molasses bread that stays soft for days and makes great toast; available in whole wheat as well
Challah 1 huge braid ~9"x13", $13
A rich, egg bread that is soft and delicate
Makes for yummy toast and fantastic for French toast
Cinnamon Buns 1 dozen, $21
Who needs to go to Cinnabun when you have these? Soft spirals, oozing full of cinnamon-sugar goodness
Choice of white fondant glaze or a cream cheese frosting
Cream Cheese Dill Bread 9"x5" loaf, $8
A ridiculously soft loaf with a hint of cream cheese infused with dill. Good in sandwiches or even just to snack on.
Quick Breads
Zucchini Bread 9"x5" loaf, $7 (2 loaves for $12)
A lightly spiced moist zucchini bread
Can be made low-fat as well!
Can add chocolate chips and/or dried cranberries if desired (extra $0.50 each)
Strawberry Bread 9"x5" loaf, $7 (2 loaves for $12)
Moist spiced loaf with pieces of strawberries and a touch of cinnamon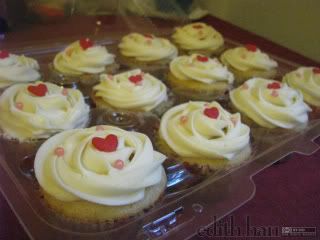 Choose one cake flavor, one frosting, and a filling if you so desire!
Please talk to me and let me know what pairing you want (though I will definitely give my two-cents as to what I think is best)! We can even discuss the possibility of even more flavors. I'll try and cater to what you like! I can try and accommodate for non-dairy or vegan cakes as well. Price TBD.
Basic Cake Flavors: Chocolate, Vanilla, Passion Fruit, Green Tea, Chai, Lemon, Carrot
Basic Frosting Flavors: Buttercream (flavored), Cream Cheese (flavored)
Basic Filling: Berry filling (strawberry, raspberry, mixed berries), Lemon Curd
Cupcakes ideas
Passionfruit cupcakes with chocolate ganache
Lemon cupcakes with raspberry frosting
Green tea cupcakes with cream cheese frosting
Chocolate cupcakes with vanilla frosting
Cake ideas
White layered cake with lemon curd and raspberry frosting
Chocolate layered cake with mixed berry filling and chocolate frosting
Carrot cake with cinnamon cream cheese frosting
Chai tea layered cake with cinnamon cream cheese frosting