So I had been craving lots of seafood for the past... well, long time. I love seafood. Especially shrimp. And clams. And crabs. And scallops. And, oh yeah, shrimp. Shrimp is tasty. Okay, yes, I think you get the fact that I love seafood. Anyhow, because I love seafood and because seafood is so much more (relatively) expensive compared to other things (read: chicken salad or giant burrito), I've laid off the seafood thing for a while. I kept on coming up with excuses like it's too expensive, I don't really know how to pick out fresh seafood from a market, I don't trust most frozen seafood, especially shellfish, it's really expensive, I don't know how to handle/cook it properly, I've never really had that dish before so I wouldn't know how to make it... oh yeah, "I'm too tired to cook anything fancy" was a commonly-used one as well ...but then I ran across a cooking blog where the writer said that that Trader Joe's frozen shrimp collection wasn't half bad. So, after weeks of procrastinating and excuse-making, I finally decided last weekend that I was going to make a cioppino-esque dish.
Oh! Random, but I love the colors of bright green fresh parsley against the deep red of fresh tomatoes.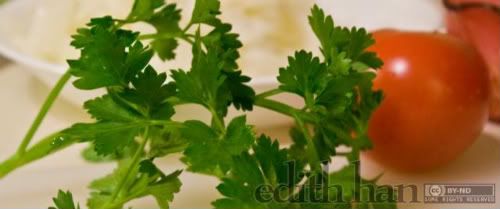 Cioppino is a dish that originated from the Italian fishermen in San Francisco that would make a tomato-based stew with all the left-over seafood from the day's catch usually featuring crabs, clams, squid, mussels, shrimps, scallops, and fish in a tomato-wine sauce. While visiting Monterey Bay about two years ago, we stopped by an amazing seafood restaurant (I must remember which restaurant that is some day...), and as great as my dish was, I couldn't stop looking over to the table next to ours... some guy had this amazing-looking seafood stew with pasta. Apparently it was cioppino. So I've been obsessed with cioppino ever since.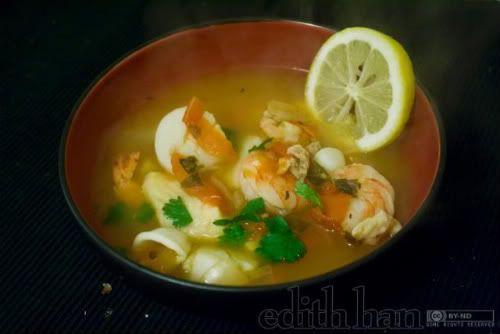 I made a very lazy-person's and poor(ish)-man's cioppino. I used frozen seafood and canned clams. It wasn't bad, but maybe when I make it for company, I can use some fresh seafood. :) It was a very tasty soup. Unfortunately, as I predicted, it was a bit salty due to the ingredients that I had in my cupboard. Anyhow, like many soups and stews, these measurements are all approximate and have a lot of give and take, depending on how heavily tomato-based you want your soup, how hearty you want your stew, and what types of seafood you want in your stew. Click below for a recipe. :)