Xing nian kuai le! Gong xi fa cai. (i.e. Have a prosperous new year.) Oh yeah, and Valentine's Day. And President's Day! ...And happy Mardi Gras today. Goodness gracious it's a bunch of things to celebrate about recently!
Of course, that means there has been lots of baking/cooking and handing out of delicious goodies. There have been various dark chocolate truffles, Chinese almond cookies, and red bean nian gao (sticky rice cake)!
So February 14th was not only Valentine's Day, but it was also Chinese/Lunar New Years! It's now the year of the Tiger... it's my year! This meant only one thing: hot pot!
Photograph courtesy of Avi
What is 火鍋 (i.e. hot pot), you ask? Clearly, as you can see from the photograph, it is loads of fun. (And no, I wasn't the only girl there!) Click below to see more of what hot pot is and for Chinese Almond Cookies and Red Bean Nian Gao (stick rice cake)! :)
As you can see, Chinese celebrations (as many other celebrations in other cultures), involve a big gathering of people and lots of food. One thing that I pretty much constantly grew up with was hot pot! Yes, I even have my own hot pot. Basically, it's a pot that either (a) heats itself or (b) sits on top of a flame/heating element, and everyone at the table uses this communal pot and the food is cooked at the table throughout the night (apparently also known as Chinese fondue, apparently).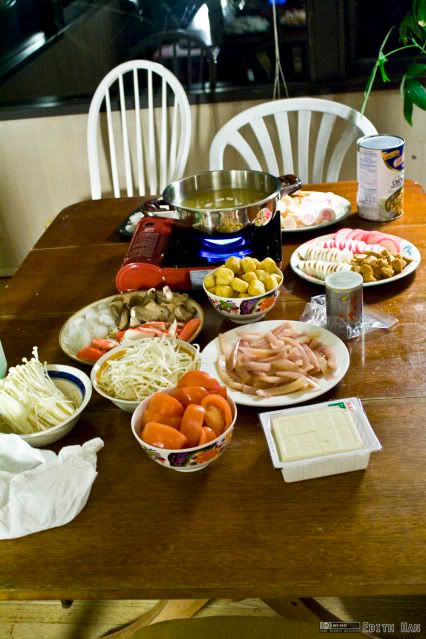 It is awesome loads of fun, and we spent a lot of the night discussing old Chinese traditions we grew up with (explaining various things we did to those who were less familiar), listening to Chinese pop music and more traditional Chinese music, and we even discussed Chungyu (Chinese idioms: 井底之蛙 jing di zhi wa - a person with a very limited outlook). It's great--there's no that's only mine (well, unless it was my brother and I growing up... we fought over preciously delicious ingredients all the time). You just toss the food in and ladle out what you want when it's done, and everyone takes a bowl of the leftover broth in the end (which is REALLY good. According to Miles, it's because it's something at the end that everyone made as a group or something like that. Cool beans.)
Although the ingredients for hot pot vary between people/groups/families, there is a general basis for what's at the table. The pot has some sort of liquid, usually a pork broth if you're fancy... we used canned chicken broth because we're lazy and un-fancy like that. Vegetables such as spinach, napa cabbage, bean sprouts, and mushrooms are usually available. Seafood and meats in the form of fish cakes (oh so many variously colorful fish cakes), squid, cuttlefish, octopus, shrimp, and thinly sliced lamb/beef/pork are often found at the table. So are other proteins in forms of various tofu. We had: various fish cakes, yam knots, enoki mushrooms, oyster mushrooms, imitation crab, mung bean sprouts, napa cabbage, daikon, tomatoes, fried tofu, soft tofu, cellophane noodles, sliced squid, sliced lamb, and I'm sure some other things that I forgot at this point. Nothing too fancy or high end because good, fresh seafood is too expensive and fancy. We were all so... full...
But there's always room for dessert!
I baked some red bean 粘糕 nian gao for the new year! So you eat nian gao during the new years because 粘 "nian," which means sticky, is a homonym for 年, meaning year, and 糕 "gao," which means cake, is a homonym for 高, meaning high. Thus, it's lucky to eat nian gao for new years because the homonym sounds like "higher year." (The Chinese like their homonyms.)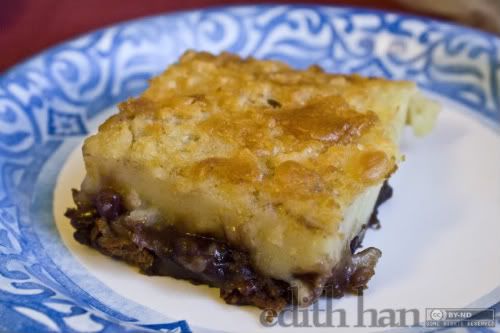 (Sorry this is the only picture I have... everything became very rushed!)
Anyhow, this was my first time making it... I ended up with a layer of red bean settled at the bottom. I wasn't too clear about the directions, but I think next time I'm going to try and put it on top and swirl it in immediately (I tried layering it), or mixing it directly with the rice flour mixture. Regardless, it's delicious. I think I actually like the baked version better than other packaged nian gao that you buy at the grocery store and cover in egg/flour and then pan fry it. The edges are so tasty...
And finally, some Chinese almond cookies. They are definitely a more Americanized Chinese baking, but they're pretty and they're tasty. They are made to look like coins to symbolize having a prosperous new year. They are very almond-y, but they are also very tasty. You can decrease the amount of almond extract if you want a less almond-y taste.
Chinese Almond Cookies
Adapted from
Simply Recipes
Makes 4-5 dozen cookies
Ingredients
* 1 1/3 cups almond flour, lightly packed
* 1 cup (2 sticks) unsalted butter, chilled and cubed
* 1/4 tsp salt
* 1 egg
* 1 tsp almond extract
* 1 3/4 cups AP flour
* 1 cup sugar
* 1/2 tsp baking soda
* Topping: 1 egg + thinly sliced almonds
Directions
1. Sift together almond flour and salt in a large bowl. Put in cubes of butter. Mix until all butter is incorporated (i.e. no chunks of butter. If you don't have an electric beater with a paddle attachment, this will take a bit of arm muscle.). The mixture will be course and slightly dry.
2. Add one egg and almond extract, and mix until just incorporated.
3. Sift together flour, sugar, and baking soda. Add flour mixture to butter mixture and mix until just combined. Dough will still be a little dry.
4. Take dough and press into a disk, wrap in plastic wrap, and chill in refrigerator for at least 2 hours (I did 6 hours).
5. Preheat oven to 325F. Line a baking sheet with parchment paper. Lightly beat one egg.
6. Take rounded tablespoon-sized pieces of dough and roll into a ball. Place them on baking sheet about one inch apart. Press dough balls down slightly into disk/coin shape.
7. Place sliced a sliced almond into the center of the cookie and lightly press into place. Use pastry brush to brush on beaten egg (like an egg wash).
8. Bake for ~15 minutes (it will depend on the size of your cookies) until edges begin to brown. Cool on sheet on wire rack.
That's all for now, but (hopefully) there's more to come... like chocolate truffle recipes!