So I had been craving lots of seafood for the past... well, long time. I love seafood. Especially shrimp. And clams. And crabs. And scallops. And, oh yeah, shrimp. Shrimp is tasty. Okay, yes, I think you get the fact that I love seafood. Anyhow, because I love seafood and because seafood is so much more (relatively) expensive compared to other things (read: chicken salad or giant burrito), I've laid off the seafood thing for a while. I kept on coming up with excuses like it's too expensive, I don't really know how to pick out fresh seafood from a market, I don't trust most frozen seafood, especially shellfish, it's really expensive, I don't know how to handle/cook it properly, I've never really had that dish before so I wouldn't know how to make it... oh yeah, "I'm too tired to cook anything fancy" was a commonly-used one as well ...but then I ran across a cooking blog where the writer said that that Trader Joe's frozen shrimp collection wasn't half bad. So, after weeks of procrastinating and excuse-making, I finally decided last weekend that I was going to make a cioppino-esque dish.
Oh! Random, but I love the colors of bright green fresh parsley against the deep red of fresh tomatoes.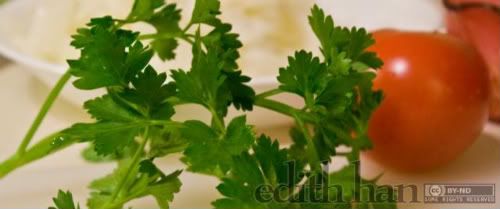 Cioppino is a dish that originated from the Italian fishermen in San Francisco that would make a tomato-based stew with all the left-over seafood from the day's catch usually featuring crabs, clams, squid, mussels, shrimps, scallops, and fish in a tomato-wine sauce. While visiting Monterey Bay about two years ago, we stopped by an amazing seafood restaurant (I must remember which restaurant that is some day...), and as great as my dish was, I couldn't stop looking over to the table next to ours... some guy had this amazing-looking seafood stew with pasta. Apparently it was cioppino. So I've been obsessed with cioppino ever since.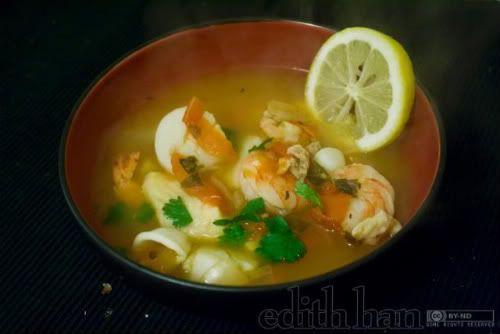 I made a very lazy-person's and poor(ish)-man's cioppino. I used frozen seafood and canned clams. It wasn't bad, but maybe when I make it for company, I can use some fresh seafood. :) It was a very tasty soup. Unfortunately, as I predicted, it was a bit salty due to the ingredients that I had in my cupboard. Anyhow, like many soups and stews, these measurements are all approximate and have a lot of give and take, depending on how heavily tomato-based you want your soup, how hearty you want your stew, and what types of seafood you want in your stew. Click below for a recipe. :)
Cioppino/Seafood Stew (the cheap and lazy way)
Serves 10-12 people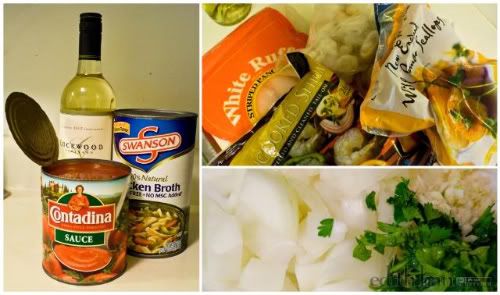 Ingredients
* 1-2 TBSP butter
* 2 onions, chopped
* 3 cloves garlic, minced
* 1 bunch fresh parsley, chopped
* 1 6 oz can tomato paste or 1 1/2 cup tomato puree (sadly, I only had tomato sauce which has so much extra salt, making the soup a little too salty)
* 4-5 cups tomatoes, chopped roughly (you can also substitute the tomato paste/puree and fresh tomatoes for cans of stewed tomatoes as well)
* 4 cups low sodium chicken broth (again, too salty otherwise)
* 1 1/2 cups white wine
* 1 cup clam juice
* 1 bay leaf
* 1 TBSP dried basil
* 1/2 tsp dried thyme
* 1/2 tsp dried oregano
* ~1 lbs large shrimp, peeled and deveined
* ~1 lbs scallops
* 1/2 lbs squid, cut into rings
* 18 small clams or 1-2 cans clams, drained
* ~1 lbs white fish fillet
* 1 lbs crab legs or lump crab
* extra parsley and some lemon for garnishing
I used packages of frozen seafood from Trader Joe's. I used a bag of uncooked, prepared frozen shrimp, a bag of frozen mixed seafood (I really wanted squid!), a frozen fillet of white roughy (very tasty! and sustainably farmed as well.), and a bag of giant scallops (I love scallops). OH! And I bought crab meat, but I TOTALLY FORGOT TO PUT IT IN!! Scandalous, I know. So now I'm going to make something like crab cakes out of them. :d
Directions
1. First, make sure if you're using frozen seafood that they are defrosted. Over medium heat, melt butter in a large stockpot. Add garlic, onions, and parsley and cook slowly until soft.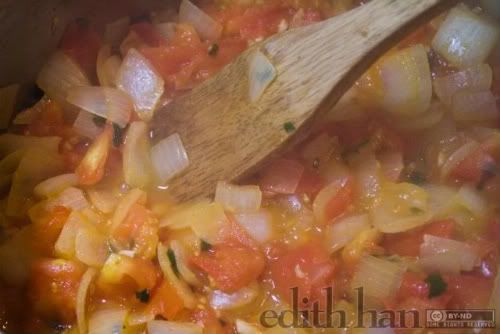 2. Add the tomatoes to the pot. After the tomatoes have cooked down a bit (~10 minutes), add chicken broth, clam juice, and white wine to the pot. Taste it a little to make sure that the broth isn't too salty. Next, add in the bay leaf, basil, thyme, and oregano. Mix well. Simmer for an hour or two to let the juices intermingle and the herbs seep into the broth.
3. Stir in shrimp, scallops, clams, squid, and fish (and whatever other seafood you want). Bring to a boil. Lower heat, cover, and simmer for about 5-7 minutes until the seafood is cooked. If using fresh seafood, look for signs that they're fully cooked (clams are open, shrimp has turned a pink-ish color, etc.). Ladle soups into bowls, and serve with a sprinkle of chopped parsley, a squeeze of lemon, and either over pasta or with some nice crusty bread.