Why hello there. So I apologize for being so MIA this month--it's been a long month with new friends and so many more dance performances. It's vaguely slowing down, but GREs and other things such as peoples' graduations and backpacking trips are right around the corner, so AAAH! Ridiculousness. So even though there has been a decent amount of baking and cooking, but not much photographing, and even less time around the computer. ...I think it's a good thing for me, though, hehehe.
So after another dance performance a week or two ago, I had two friends stay over since they're not from the area. They were able to stick around in the morning, so I figured... why not pancakes?? I don't really make fancy breakfast foods... boiled eggs, cereal, and oatmeal are just fine in my book. But I know everyone likes the occasional breakfast treat, so after browsing through a billion breakfast recipes... and also realizing that my refrigerator was actually pretty empty except lemons (I have a continuous supply of lemons!) left over from an order for lemon tarts and I actually had some leftover buttermilk from making the tiramisu cake (I NEVER have buttermilk!), so I decided on
Meyer Lemon Raspberry Pancakes with Raspberry Maple Compote
.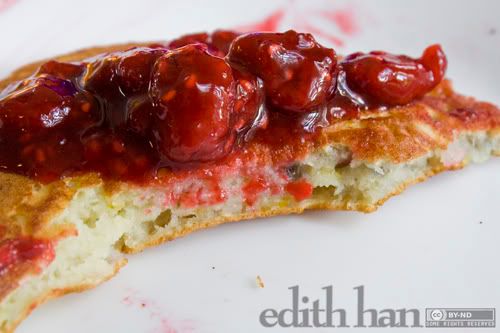 Admit it. It looks delicious. M... now you want pancakes. Click below for more pancakes and recipe! :)