So I still had part of a Costco-sized bag of lemons, and I didn't feel like making lemon tarts, lemon curd, or lemon bars... too many eggs and butter and different parts and meh, I was lazy and had been baking a lot. (I had been baking and coking a lot last week... including a whole wheat multi-grain bread, 2 of these lemon poppy seed loafs, vegetable stew, and hot cross buns! And then a tiramisu cake!) Unfortunately, most lemon cookies or muffins or whatnot require the lemon zest, but not the lemon juice. So what better than a lemon quick bread that requires soaking it with a lemon syrup? ...And then top it off with a lemon glaze?? Not only does it then use lemon juice, but it is also lemon and buttery and delicious.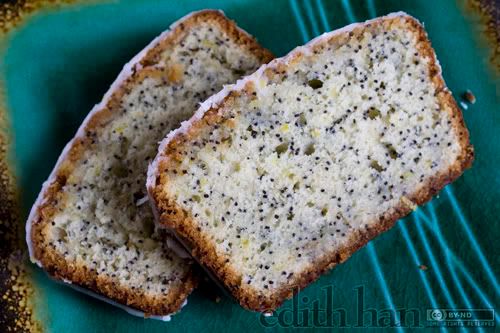 Okay, confession. I don't really like poppy seed. Maybe my parents bought one too many Noah's poppy seed bagels (By the way, I love Noah's bagels. Grab me a plain bagel, a toasted cinnamon raisin bagel with cream cheese, and an asiago bagel and I will love you forever. Okay, for a moment, until my waist line disappears, then I will hate you. It's that whole love-hate thing, ya know?). Or maybe I really hate how they get stuck in your teeth. Or maybe the flavor's a little too strong. Either way, I don't like poppy seed. But my roommate likes things with poppy seeds. And so do other people. And I found out a couple weeks ago that the local market sells poppy seeds for not to bad a price. So I grab myself a bunch of poppy seeds, figuring that I'd use it for something. Then I remembered, of course. Lemon + poppy seed. Who hasn't heard of that combination?
It seemed to be very popular.
And the glaze. I love sugar. I wanted to lick my cookie sheet after all the excess lemon glaze dripped off of the bread. ...I might've scraped off a few spoonfulls of that delicious lemon-sugar combination. But enough about me, more about the bread behind the jump!
Lemon Poppy Seed Bread
Adapted from Joy of Baking. Makes one 8"x4" loaf.
Ingredients
Lemon Poppy Seed Bread
* 3 eggs, room temperature
* 1 1/2 tsp vanilla extract
* 1/4 cup milk
* 1 1/2 cups (195 g) AP flour, sifted
* 3/4 cup sugar
* 1 tsp baking powder
* 1/4 tsp salt
* 1 TBSP (~1 lemon) lemon zest
* 3 1/2 TBSP poppy seeds
* 3/4 cup (1 1/2 sticks) unsalted butter, softened
Lemon Syrup
* 1/4 cup fresh lemon juice
* 1/3 cup sugar
Lemon Glaze
* 2 cups powdered sugar
* 1-2 1/2 TBSP lemon juice
* zest of 1 lemon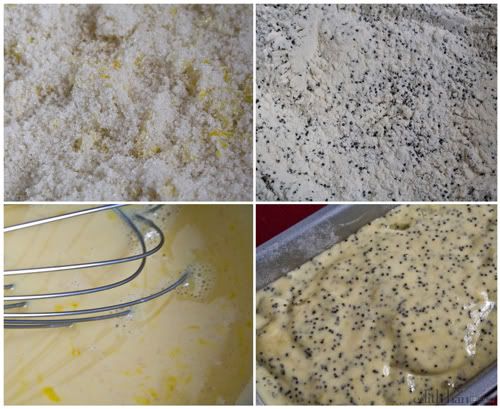 Directions
1. Preheat oven to 350F. Butter and flour the bottom and side of an 8" loaf pan. Line the bottom of the pan with parchment paper. (I made this twice, once with the parchment paper, once without because I ran out of parchment paper. It's not necessary, but it makes life a lot easier.)
2. In a medium-sized bowl, whisk together eggs, vanilla extract, and milk.
3. Place the sugar and lemon zest in a smaller bowl. Rub the lemon zest into the sugar. This step isn't necessary, but it helps bring out the oils/flavors of the lemon zest even more.
4. In a large bowl, add the flour, lemon sugar mixture, baking powder, slat, and poppy seeds. Beat until well combined. Add the softened butter and half the egg mixture and mix on low (I used a hand mixer) until moistened . Mix on medium for another minute. (This will aerate the bread and make it lighter.) Add remaining egg mixture in 2 batches, beating about 30 seconds after each addition (this supposedly helps strengthen the structure of the batter).
5. Scrape the batter into the prepared pan. Bake for 55-65 minutes, or until the bread is golden brown and a toothpick in the center coms out clean. I had to cover the bread after 40 minutes to prevent over-browning.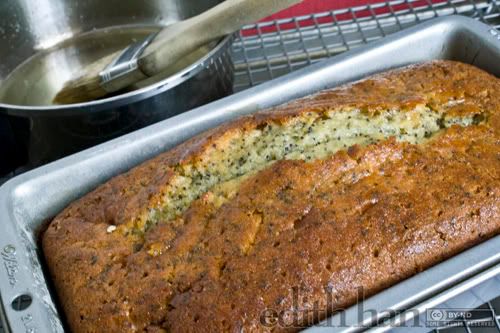 6. While the bread is in the oven, make the lemon syrup about 15-20 minutes before the bread is done. In a small saucepan, add lemon juice and sugar. Bring to a boil, stirring until the sugar dissolves. Set aside.
7. When the bread is done, remove from oven and place on wire rack. Using a wooden skewer/toothpick/thin stabby object pierce the hot loaf all over. Then, with a pastry brush, brush the top of the loaf with ~1/2 of the hot lemon syrup. Let the loaf rest for about 10 minutes, invert the bread onto a wire rack (might want to grease it to prevent sticking. I didn't, though.) and brush the remaining syrup on the bottom and sides of the loaf. Let cool completely.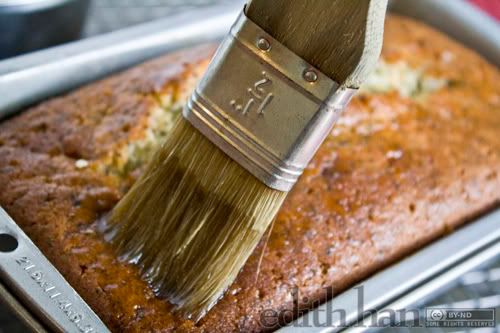 8. After the bread has cooled completely, make the lemon glaze. Whisk together the powdered sugar and 1 TBSP of lemon juice and the lemon zest. Slowly add lemon juice (1/2 TBSP at a time) until you get a consistency of something similar to Elmer's glue. Pour over cooled loaf.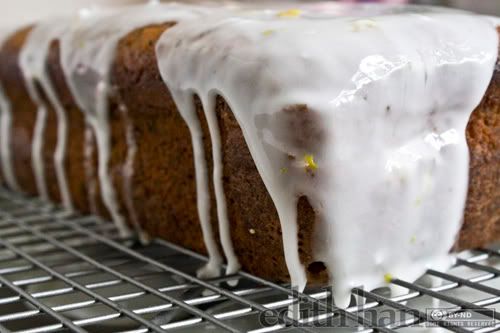 9. Let the loaf sit out overnight, or for at least 5 hours to let the glaze harden and to let the lemon syrup distribute throughout the loaf.