Hiiii! One thing that I've realized about keeping this blog updated is that it has required me to try and, you know, bake and cook new things. Often, I jump to my usual cupcakes or muffins or banana bread, but who wants to read and see pictures of the same food
every day
?? Not me.
That said, I have billions of different and new recipes to make, but I never get around to them because I keep on finding excuses not to do it--I don't have anyone to eat it, I don't have all the ingredients... you get the idea.
That said, I tried a new pancake recipe! Okay, I'm going to say right now, I don't really like pancakes. I don't even really like cupcakes or cookies--but I'll get back to that some other day. I don't really like pancakes, but I know that other people like pancakes and other such breakfast items. So, one of the things I love to do is make breakfast for people! I've made scones, home fries, french toast, blueberry syrup for said french toast... you name it! So this time around, I wanted to try these cinnamon apple whole wheat oatmeal pancakes! Doesn't it sound almost like it's healthy? I used
Closet Cooking's Apple and Cinnamon Oatmeal Pancakes
recipe, and it was a great hit! The only thing I did differently is that I didn't grind up the oats in a food processor since, well, I don't have one... I just used a knife and a cutting board to the oats, haha. That, and I added a bunch more cinnamon, because, well, it's cinnamon!!
On the frying pan...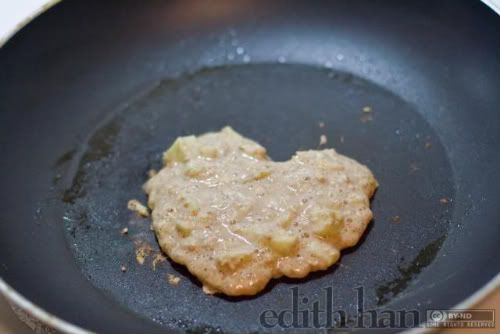 And onto the plate.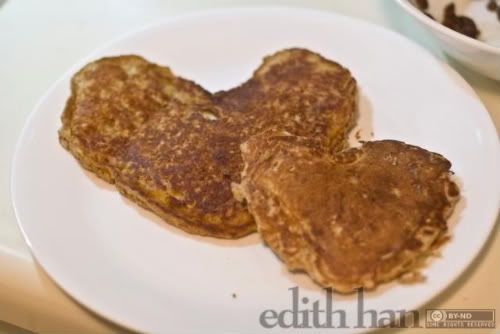 Yes, those are hearts. You got a problem with that? No? Good. I didn't think so...
These pancakes were well-received, yay! They weren't your usual affair of buttermilk pancakes, but personally, I like them better that way. There were chunks of apple, and tasted of whole wheat and oatmeal goodness. :d Yum. I even liked them. Then again, it's got apples and oatmeal and cinnamon--hard to go wrong there! Hehehehe...
I've also had a chance to play around with his Chicken Giouvetsi, which apparently is a Greek dish. I've had a bag of whole wheat orzo sitting in my pantry for goodness knows how long, and I've been dying to find a
good
reason to use it. I've debated between making a Parmesan orzo dish, but I don't really like creamy things, or making some sort of orzo pasta salad... but nothing seemed to be that appealing. Finally, I've been staring at this
Chicken Giouvetsi
recipe and decided that I
had
to try it. I love tomato cooked things, and chicken is just awesome, so why not?
Pan-frying the onions with the pepper.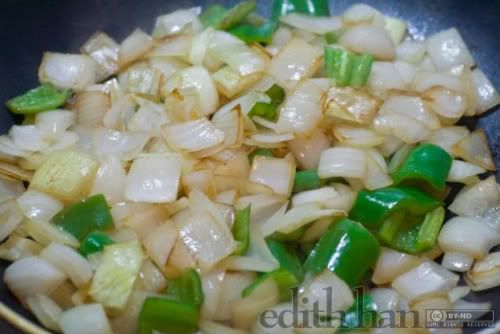 I used an Anaheim pepper because, for the life of me, I could not find a cubanelle pepper (even at Whole Foods and at Berkeley Bowl!!), and Google search told me that I could use it, so hah! I don't know how it is with the cubanelle pepper, but it was pretty fantastic with the Anaheim pepper that adds just a hint of a spicy bite to the dish.
After adding the chicken stock and the tomato puree, you transfer it all into a baking dish with the chicken pieces (I didn't have a whole chicken, so I just used two chicken drumsticks and two chicken breasts), and bake it until the liquid evaporates and the top turns gold brown.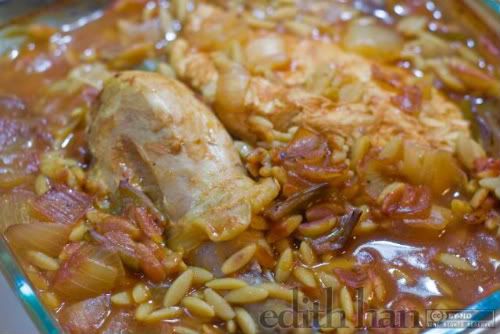 Then you plate it, and then dig in! (Or, in my guest's case, just take a giant spoonful to the baking dish, tsktsk.)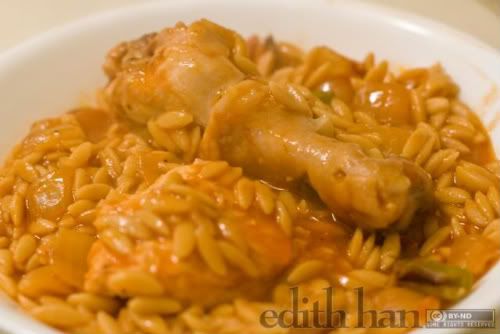 My photo doesn't look as tasty as Kevin's, but needless to say, it was still awesome. It's a one-pan and then one-baking dish type of dish. It's fairly simple, and the part that took the longest was just waiting for it to bake (I had also added an extra cup or so of chicken broth since that was all that was left in a giant can of chicken broth). The two of us finished off half of the entire thing, and then proceeded to finish off the second half the next day. Still great out of the microwave!!
Anyhow, that's all for now. The next few days involve birthdays and parties and meeting new people, so I'm sure that there will be
something
cooked or baked or whatnot coming up in the next week!
I hope everyone's week is going well.