Why hello again! It's been a little bit since the last post... I've been ridiculously busy. Sadly, the vetekran I mentioned last was the last time I was baking something. However, it turned out a lot prettier than the previous one! And was just as tasty... and I remembered the glaze this time! :)
This was after the second rise, ready to put in the oven...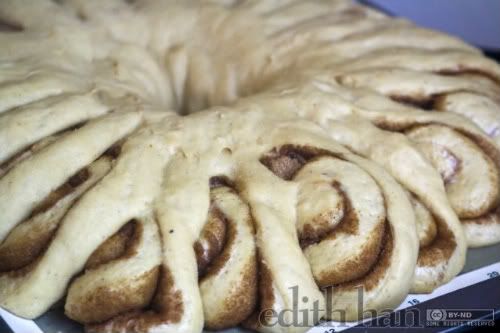 And voila! The final product!
Since then, I have not had a chance to bake with this whole... having a life recently. However, I did have a chance to make some dinner for people, and that was awesome, because I love cooking dinner for people. Dinner was Chinese, and consisted of Ma Po Tofu (i.e. Mabo Tofu, Spicy Tofu, etc), Tsao Mi Fun (basically a stir fry of vermicelli), Tze Ma Chou (Sweet Sesame Rice Balls). Forgive my inability to Romanize the Chinese language... I'm horrible at it (it could have to do with my lack of knowledge of the
exact
way to pronounce things in Mandarin in the first place, but sh!)
Ma Po Tofu consists of soft tofu cut up and cooked with ground meat (I don't eat beef, but I used pork, but I've also used ground turkey before.) and a spicy sauce, and in this case, I used a spicy black bean paste thing (sadly, I can recognize the bottle, but don't know what it's called).
Tsao Mi Fun is a vermicelli stir fry that consists of Taiwanese cabbage, shiitake mushrooms, and carrots. Usually you add these little tiny shrimp, but I forgot about them this time around. This was the first time I made it, (and accidentally woke up my mom to ask her exactly how to cook it) so I wasn't sure about the ratio. I think I had too much vermicelli around this time because I didn't realize how much noodles make, and how much the vegetables cooked down. Still, it was tasty. :)
Unfortunately, I don't have a picture of the sweet sesame rice balls, but basically, they're these frozen little balls that you get that consists of a sweet black sesame paste wrapped with a rice flour paste/dough that you just toss into boiling water and let it simmer until it floats... it's really simple, but so tasty.
Amongst all this food, there have been trips to San Francisco, Casa de Fruta, the Santa Cruz beaches, and hiking in Pt. Reyes.
My friend living in SF took me around, and we explored much of San Francisco by foot, and yes, that includes climbing up and down all the gigantic hills. Actually, I also had a chance to take one of those cable cars that you see dinging by filled with tourists, not that I should be talking because I became one of them. I took surprisingly few pictures... I have a love/hate relationship with my 50mm fixed lens currently. It's great because it's lightweight and it's got an amazing aperture.
However
, it makes it VERY difficult to take photographs of people, especially at a distance, and often makes it hard to frame pictures in a place as crazy as SF.
However, while walking through the Ferry Building, I couldn't resist the beautiful colors of the tomatoes and the amazing textures/patterns that the colors created.
Aren't they beautiful?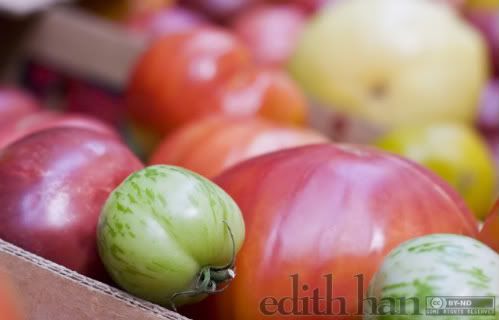 I think they're heirloom tomatoes.
I also had a chance to visit Casa de Fruta, a "fruit stand" in the middle of nowhere in Hollister, and has the most amazing variety of dried nuts, dried fruits, chocolate-covered whatevers ever! They also have a great Casa de Sweets which has a bunch of old-school candies. Overpriced, but amazing dried nuts and dried fruit! If you haven't been there, and are heading around Santa Cruz or Monterey, it's worth a trip. If you go in the spring-time, the hills will be rolling in green with beautiful blue skies.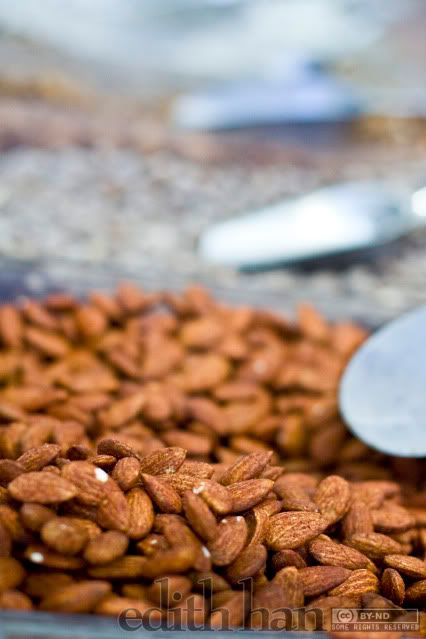 Don't they look so good? They have some of the best flavors... it's worth a visit if you ever make it down/up there. :)
I have a couple bananas sitting in the kitchen, so hopefully the next post will be about banana bread, and will be soon. I can't promise anything, though, since it's been crazy busy, and my roommate and my other friend and I are going backpacking at the Emigrant Wilderness this coming Thursday --> Sunday! I'm excited, since I haven't had a backpacking trip since late December... maybe I can post about the "gourmet" backpacking foods that we will be eating. :P
I leave you with a note telling you to go visit the beach and run around and spin around and leap on the sand and go let the waves wash over your toes.
Photography courtesy of Ben Bracamonte.