I'm out of flour! I know, ridiculous. But I'm out of plain ol' all-purpose flour. Oops. I do have many pounds of bread flour, whole wheat flour, and white whole wheat flour. ...I just don't have good old all-purpose flour. Oops. Consequently, I now have a(nother) vetekran dough resting on my counter made up of part all-purpose flour, part white whole wheat flour, and part bread flour. ...This'll be an interesting experiment, since I have always been shy about trying out different flours in recipes. Oh yes, and I forgot to mention last time that this recipe is from the
The Great Scandinavian Baking Book
by Beatrice Ojakangas.
The past few days have been pretty filled with baking... I received an order for a batch of ginger cookies, lemon meltaways, and a cream cheese dill bread. Then, I figured since I had left-over cream cheese and the whole wheat bread was running out, I might as well make another loaf for myself.
Doesn't it look tasty?
I've discovered it's amazing with something like one of those wedges of Laughing Cow Original Swiss and slices of turkey deli meat. Yum.
After the first rise: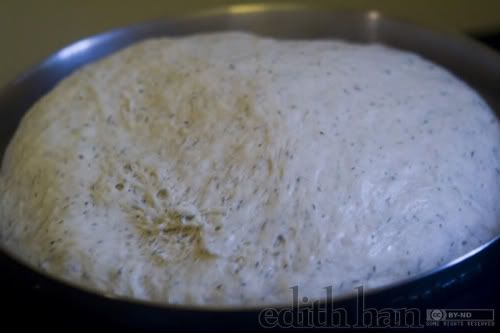 After the second rise: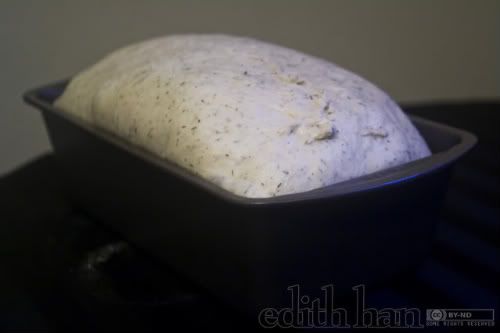 I have decided that there is just something so beautiful about risen dough. Whether or not that is because I'm biased and it means I did it right is another matter. :P
So yeah, I also realized that the bread is giant and fits in a 9"x5" loaf pan, not my 8"x4" loaf pan, so I need to make a change of that and the amount of compensation for that... oops.
Oh yes, and the lemon meltaways! I think that this batch of lemon meltaways weren't the most lemon-y of lemon cookies. I think it might have something to do with my lemon... I realized afterwards that the lemon itself wasn't the most fragrant of lemons, which probably resulted in a less lemon-y cookie. It was still tasty, though, I think.
A close-up, to address all your food porn needs:
Don't they look good? These cookies contain powdered sugar and cornstarch in the dough, resulting in a lighter, crumbly cookie that melts when you bite into it--much like a Mexican Wedding cookie, but without the nuts.
Anyhow, my new vetekran dough should be rested enough to roll out... I made it last night in part for my roommate. We were in a car accident last night on the way back to our apartment, and he was freaking out a little. We are both okay, but just a little shaken, and no other car was involved, thank goodness. Originally, he was going to stay at home and fix the car, but I convinced him to still go into work. ...Unfortunately, that means that he's not even going to be here now when it comes out of the oven! Alas.
Oh yes, and here is the second order! (I swear I'll stop posting pictures of my orders eventually, but I just think the scrapbook paper are so cute! That, and I'm obsessed with really cool boxes and packaging, and I had a field day at Joann's and at Michael's last week... I still need to find a cheaper way of packaging, though...)