Why hello there. So I apologize for being so MIA this month--it's been a long month with new friends and so many more dance performances. It's vaguely slowing down, but GREs and other things such as peoples' graduations and backpacking trips are right around the corner, so AAAH! Ridiculousness. So even though there has been a decent amount of baking and cooking, but not much photographing, and even less time around the computer. ...I think it's a good thing for me, though, hehehe.
So after another dance performance a week or two ago, I had two friends stay over since they're not from the area. They were able to stick around in the morning, so I figured... why not pancakes?? I don't really make fancy breakfast foods... boiled eggs, cereal, and oatmeal are just fine in my book. But I know everyone likes the occasional breakfast treat, so after browsing through a billion breakfast recipes... and also realizing that my refrigerator was actually pretty empty except lemons (I have a continuous supply of lemons!) left over from an order for lemon tarts and I actually had some leftover buttermilk from making the tiramisu cake (I NEVER have buttermilk!), so I decided on
Meyer Lemon Raspberry Pancakes with Raspberry Maple Compote
.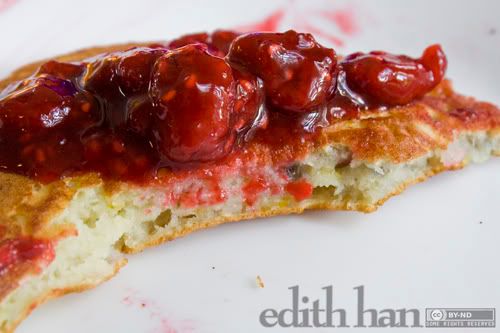 Admit it. It looks delicious. M... now you want pancakes. Click below for more pancakes and recipe! :)
So I only had frozen raspberries in my refrigerator. I think that the raspberries might have overpowered the taste of the meyer lemons, so a better pairing would probably be blueberries, or to use regular lemons to pair with raspberries. Also, the raspberries overpowered the maple flavor in the compote... so blueberries probably would have been better (I'm very curious of blackberries, too, but I don't generally have a bag of frozen blackberries in my freezer...)
Meyer Lemon Raspberry Pancakes
Makes ~8-10 small-ish pancakes, about 2 people. Adapted from Joy the Baker.
Ingredients
* 1 egg
* 1 cup AP flour
* 1 TBSP sugar
* zest of 1 Meyer lemon
* 1 tsp baking powder
* 1/2 tsp baking soda
* 1/2 tsp salt
* 1 cup buttermilk (or 1 TBSP lemon juice + enough milk to make 1 cup)
* 2 TBSP butter, melted and slightly cooled
* ~1 cup berries (fresh, or frozen, thawed, and drained works well too)
* oil/butter for cooking
Directions
1. In a small bowl, rub together the lemon zest and sugar (it makes lemon sugar!) until fragrant.
2. In a large bowl, whisk together the egg, buttermilk, and melted butter. Then, whisk in dry ingredients until JUST COMBINED: flour, lemon sugar baking powder, baking soda, and salt. Don't over-mix the batter... lumps are okay! Otherwise, you'll over-develop gluten and pop all the precious bubbles that the baking powder and baking soda create. As Alton Brown says... "Just walk away... just walk away."
3. Fold in the berries with just a few strokes.
4. Heat a griddle (I'm not fancy and I only have a frying pan) over medium heat, and drizzle a small amount of oil/butter in the frying pan (I usually wipe down oil with a paper towel, or just wipe the warm frying pan with a stick of butter very quickly).
5. Scoop a small amount of batter (I use a 1/4-cup measuring cup) onto the frying pan. Let it cook on medium untouched until you start seeing bubbles pop and hold their holes on top. Carefully flip over and cook through. To keep warm, place pancakes on an oven-proof plate and put in an oven on the "warm" setting (or 200F) and cover with foil until ready to serve.
(Rasp)Berry Maple Compote
This is a very adaptable and forgiving recipe--I just often do it to taste. I only used raspberries this time, but you can do it for any berry.
Ingredients
* 2 cups frozen raspberries
* 1/4 cups maple syrup
* 1/4-1/2 cups sugar (to taste)
* zest of 1/2 lemon (optional)
* 1 tsp cornstarch dissolved in 1 TBSP warm water
Directions
1. In small saucepan, cook raspberries over medium-high heat for 3-4 minutes. Turn to medium heat, and add maple syrup, lemon zest, and 1/4 cup sugar. Continue to cook for a few more minutes until sugar is dissolved and raspberries have cooked down a little more, stirring occasionally. Add more sugar if necessary to taste.
2. On low heat, add cornstarch and water mixture to the raspberry-maple mixture. Mix thoroughly, and let simmer on low heat until reduced to preferred consistency (Remember, it with thicken more as it cools!). Serve! :)
All right, there is my post, long past over-due. I have some multigrain breads and candied lemon slices hidden somewhere up my sleeve, so hopefully I can pull those out some day.
Until then, take care, y'all, and wish me luck on the GREs... :X