Hey all,
So it's been a while! But I'm back with more breakfast foods... this time, French Toast. :) More specifically, Nutella-stuffed Brioche French Toast with Sauteed Cinnamon Apples.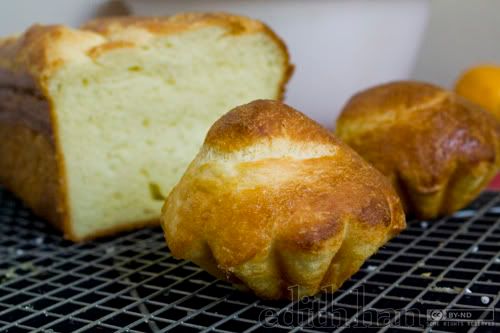 I've been wanting to make french toast for a while, so I even specifically made Peter Reinhart's Brioche (from the
Bread Baker's Apprentice
)... it's a lot nicer than a previous brioche recipe that I've used before. But, like any brioche recipe, the dough is kind of sticky and annoying to work with, and definitely requires refrigeration. There are various versions--the Rich Man's Brioche, the Middle Man's Brioche, and the Poor Man's Brioche. The difference is mainly in the amount of butter used... I think that the Middle Man's Brioche was a good choice--not too high in fat, but still buttery, rich, and delicious.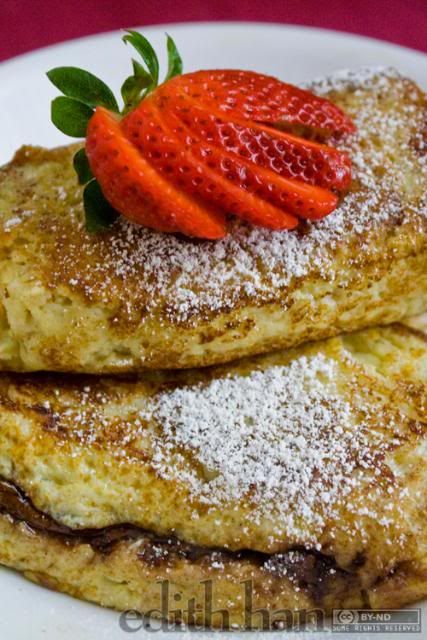 Little brioche à têtes! :D I made one giant 9"x5" loaf, and then another 4 brioche à têtes. :) The little brioche à tête were delicious to eat on their own... I am such a sucker for carbs. They weren't the prettiest things... I tried using the knotting technique instead of making separate balls to make the shape... but I'm sure they'll be prettier next time. :)
Anyhow, so I decided to make french toast the next morning! :) Okay, so yes, they all say that french toast is best made with stale bread, that was it can soak up the "custard" mixture while still holding its shape. I really really wanted to make french toast and to use my brioche, so what I did was cut thick 1/2" slices and toast them on the lowest setting just to dry them out a little. I think stale bread would've been the best... but you work with what you've got!
Click below for more nutella-stuffed brioche french toast with sauteed cinnamon apples.
I wanted to make something more exciting than plain french toast. I needed to save my cream cheese for another baking project, and didn't have many fresh fruits, so rummaging through my cupboards, I found my partially used jar of nutella! I keep on telling myself I'll do something with it (it's part gone... so I used it for something before... I just can't remember what...)... so I figured that nutella french toast would be delicious.
So french toast is basically bread that has been soaked in an egg-milk/cream base and pan-fried to create a nice crusty outside and a custard-y inside. I will be honest, I don't like french toast. I barely like custard-like things in the first place, so anything custard-like that isn't ridiculously sweet is a no-go in my books. ...But my patrons seemed to like their french toast! So it's supposedly pretty good, if you can trust my patrons!
Nutella-Stuffed French Toast with Sauteed Cinnamon-Apples
Makes 3 stuffed french toast sandwiches. Enough for one really hungry person. one REALLY hungry person. Can easily be doubled and tripled for more!
Ingredients
French Toast
* 4 thick slices (~1/2") of stale bread (challah and brioche are excellent choices)
* 2 eggs
* 1/3 cup milk
* 2-4 tsp cinnamon
* pinch of grated nutmeg (optional)
* ~1 1/2 TBSP Nutella (optional)
* 1-2 TBSP of butter for frying
* maple syrup, powdered sugar, fruit, sauteed cinnamon apples, etc. for topping.
Suateed Cinnamon Apples
* 1 large granny smith apple, sliced
* 1 TBSP unsalted butter
* 2 TBSP sugar (depending on how sweet your apples are)
* 1/2 TBSP cinnamon
* pinch of salt
Directions
French Toast
1. Beat eggs and milk together. Pour into a shallow bowl. Sprinkle 1 tsp cinnamon on top of egg-milk mixture. (Re-sprinkle on cinnamon for every slice or so... that way you get a really pretty cinnamon swirled pattern on your toast.)
2. Slice bread slices in half. Spread ~1/2 TBSP of Nutella on one side, and place the other half on top (like a nutella sammich!). Soak one side of the french toast for about 30 seconds to 1 minute, making sure that the custard has soaked through. I even turn the bread on its side so that each side will be able to soak up as much as possible.
3. Melt butter in a frying pan over medium heat. Add as many bread slices as can fit on the frying pan. Fry until brown on both sides, flipping the bread when necessary. ~5 minutes on each side (these are thick slices).
4. Serve with butter, a dusting of powdered sugar, maple syrup, sauteed cinnamon apples, etc.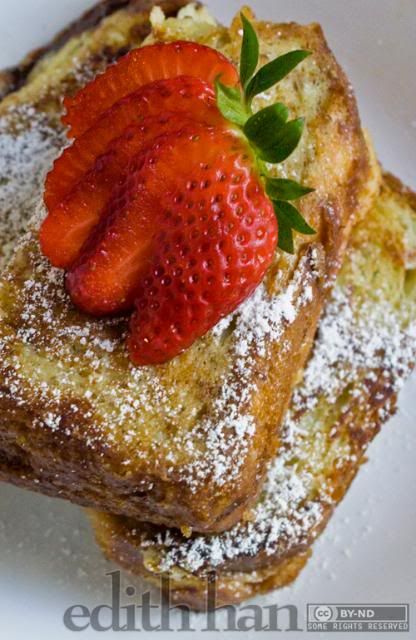 Satueed Cinnamon Apples
1. Melt butter in a small sauce-pan over medium-high heat. Add in apple slices and sautee for ~2 minutes, stirring occasionally. Add a pinch of salt to help soften the apples and to bring out the sweetness of the sauce.
2. Add in sugar, 1/2 TBSP at a time until desired sweetness. Add cinnamon (and a pinch of grated nutmeg can go a long way!), and continue stirring until apples have softened and the sauce has thickened slightly.
3. Serve warm over french toast, or other nommy things!