Hello hello again. So my posts have been less frequent than usual... it's been a busy busy April and especially May. But I've been making these citrus/lemon ricotta cookies with a delicious glaze, and everybody has loved them, so I just needed to share. :)
They're based off of Giada De Laurentis' (from the Food Network!)
recipe
. I'll be honest, I don't usually go to the Food Network recipes for my choice of recipes, but I had found a few food blogs that had made these cookies, and it sounded pretty exciting. I had a package of ricotta cheese for some reason--honestly, I can't remember why, but I decided that I needed to use it up. That, and I'm still working on that constant supply of lemons, haha. Also... it's turning to the spring/summer... who doesn't love the light burst of sunlight in their mouths? :)
These cookies aren't so much crunchy or even soft and chewy... they have a more cake-like texture, which is very interesting. It's still very nommy, though! The batter's pretty easy to work with, and uses up both lemon zest and lemon juice, yay!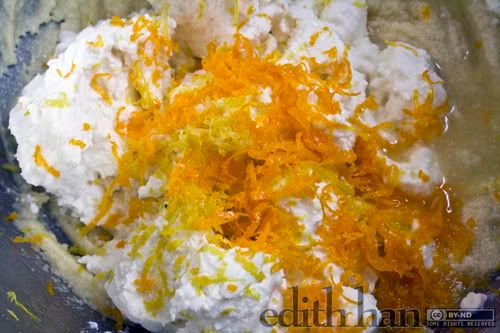 Click for more ricotta cookie deliciousness. :D
Citrus Ricotta Cookies with Citrus Glaze
Makes ~30 large cookies. Adapted from Giada de Laurentis.
Ingredients
Lemon/Citrus Ricotta Cookies
* 2 1/2 cups AP flour
* 1 tsp baking powder
* 1 tsp salt
* 1/2 cup (1 stick) unsalted butter, softened
* 2 cups granulated sugar
* zest of 2 lemons (I've also used zest of 1 lemon and 1/2 navel orange)
* 3 TBSP lemon juice (~1 lemon)
* 2 eggs, room temperature
* 15 oz ricotta cheese
Lemon/Citrus Glaze
* 1 1/2 cups powdered sugar
* 2-3 TBSP lemon juice
* zest 1 lemon (or 1 lemon and 1/2 orange)
Directions
1. Preheat oven to 375F.
2. In a medium bowl, sift together flour, baking powder, and salt.
3. In another bowl, put in sugar and citrus zest. Rub the zest and the sugar together until the sugar acquires a pale yellow/yellow-orange color and is fragrant. Add butter into citrus-sugar and beat until light and fluffy.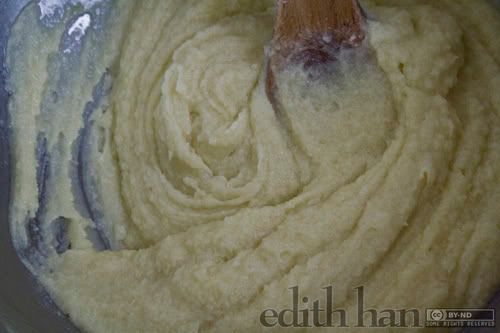 4. Add in eggs one at a time, making sure that each egg is well-incorporated before adding the next one. Add in ricotta cheese and lemon juice to the butter-egg-sugar mixture. Beat to combine.
5. Stir in dry ingredients, making sure not to over-mix (otherwise gluten will develop, and your cookies will be chewy and rubbery!).
6. Using two large spoons or a big cookie scoop, scoop about 2 TBSP of batter per cookie onto a cookie sheet lined with parchment paper.
7. Bake for 15 minutes, or until edges are slightly brown. Remove from oven and let rest for ~20 minutes before moving to cooling rack.
8. Add powdered sugar to a small bowl. Add in the zest as well. Slowly add lemon juice 1/2 TBSP at a time until you get the right consistency. Spoon over completely cooled cookies, and let cookies sit until glaze is set (at least two hours or so).
Store cookies in air-tight container (if they last that long!)