Hey all. I can't believe it's already February. If you didn't know, this coming weekend is Chinese New Years, Valentine's Day, and President's Day! And then Tuesday is Mardi Gras. Craziness, ain't it? I can't believe it's February already.
Anyhow, this past week I also decided to come face-to-face with something I've been avoiding... breads that take overnight to proof (to do that whole... developing the flavors thing!). The only other one I've done was that ridiculously amazing but labor-intensive
brioche loaf
. Of course, there are less time and labor intensive focaccia recipes out there, but oh, how can I deny Peter Reinhart? His recipes and formulas and instructions have yet to fail me. Anyhow, this involved lots of waiting, over-night refrigeration, and making my own garlic and herb olive oil! But it was worth it... doesn't it look tasty?
Oh. Minor digression. While I walked to Trader Joe's to buy fresh basil (I forgot fresh basil! How could I forget the fresh basil?!?), I saw a gorgeous white egret that decides to show itself on our little bay every so often. All I had was my phone camera, so I took a picture with my phone for the time being (it's my new phone wallpaper!), annoyed that I didn't have my camera with me. On the way back from TJs, I saw it was still there! Awesomeness. Still, it was starting to get really cold, windy, and cloudy, so I decided to hide back in my apartment. However, discussing this with my friend, I decided that I might as well go outside and track this bird outside.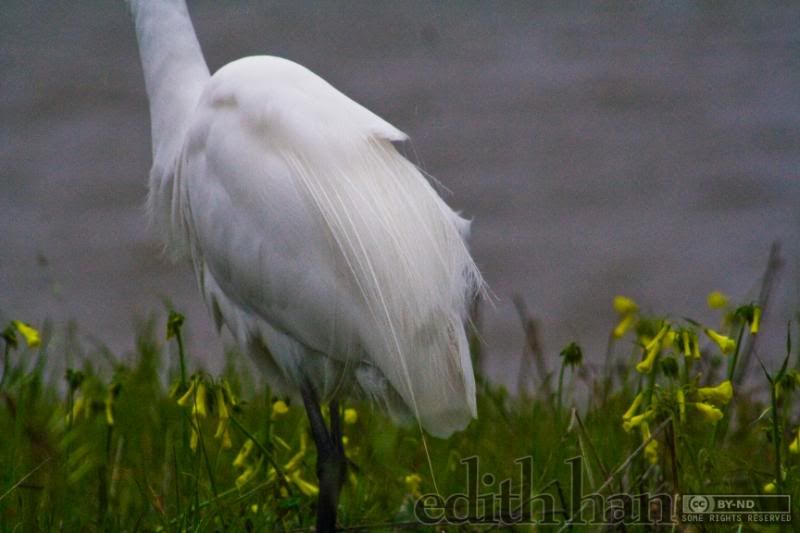 Click below to see more photos and to read about Peter Reinhart's focaccia!
It had started raining by the time I stepped outside, but I figure, what the heck, oh well, why not. It was worth it. :) I found the bird pretty much where I had last seen it along the marina. Then, I spent the next 20-30 minutes chasing after it. ...I think the people in the cars driving by thought I was kinda odd, squatting around, crawling around in stealth mode, but whatever. Oh yeah, it was also freezing cold, and I got completely soaked, but it was awesome.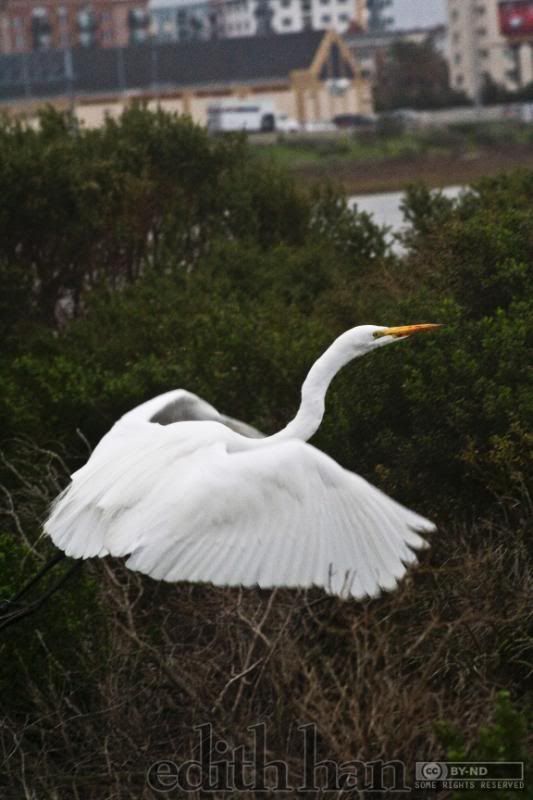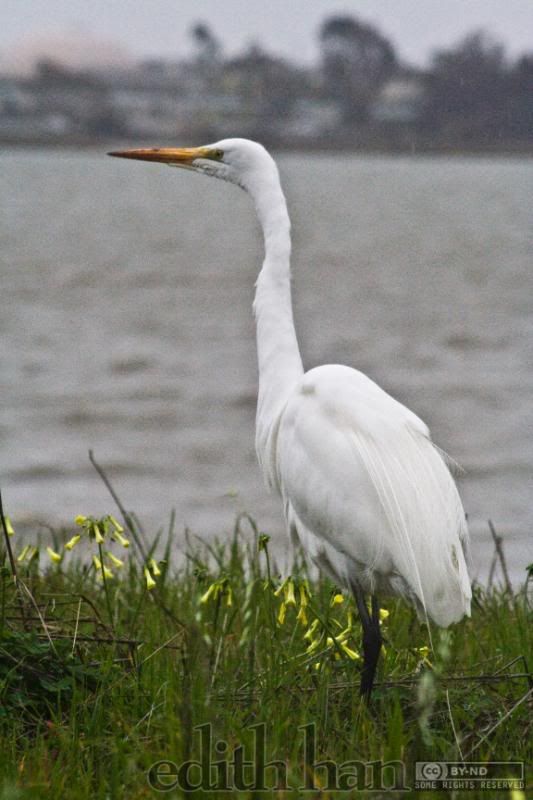 Okay, back to baking. So the focaccia bread itself has a very simple formula that involves: olive oil, yeast, salt, bread flour, water. Really, one of the simplest doughs ever ingredient-wise. (Sorry, no recipe. If you want it, go buy his book!)
This dough was a very messy dough. And the making of said bread becomes very messy. I'm a very OCD-like person and I can't stand any little bit of dough or batter being left in the bowl, and I hate using my hands to mix it. However, the dough required a lot of hand-mixing and lots of using my hands. Not to mention, the olive oil made everything all oily and messy, and I can't stand the feeling of oil. BUT, I did it. I did it all with my (clean) bare hands, so take that obsessive-compulsive personality! And it was tasty.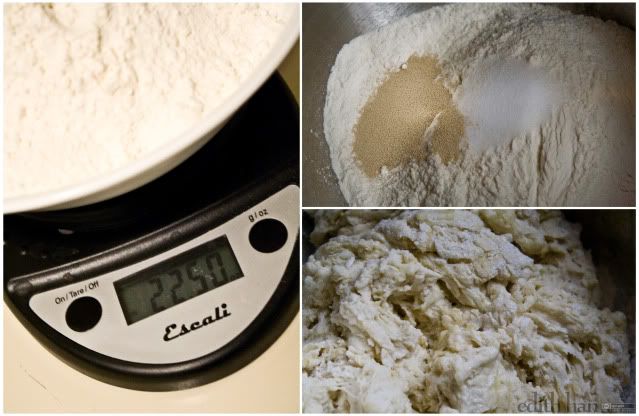 What was also fun (but also made for more work) was making my own herbed olive oil! It's fantastic, though. I used 2 cups of olive oil and 1 cup of chopped fresh and dried herbs and garlic, along with 1 teaspoon of salt. I used fresh rosemary, fresh thyme, fresh basil, fresh garlic cloves (about 5), and some dried oregano. Just heat the oil to about 100 degrees (just warm), add the herbs + garlic + salt, and let it steep. This will then keep in the fridge for 2 weeks (If you olive oil solidifies slightly, DO NOT microwave it. At least, it didn't work out too well for me... but it's okay, nothing was destroyed!)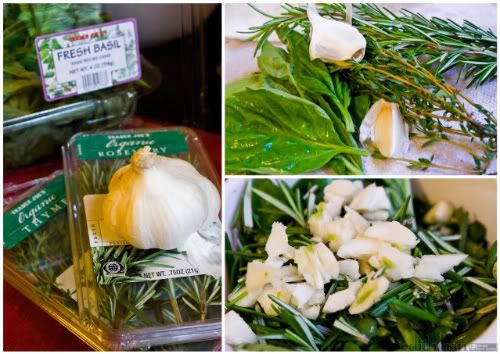 After mixing and folding and waiting and folding and waiting and folding and more waiting, I spooned on the herbed olive oil and dimpled the bread in.

Put this in the fridge overnight, then let it proof for another few hours after dimpling it in (with more herbed olive oil!), then bake it to its full deliciosity (sure it's a word)!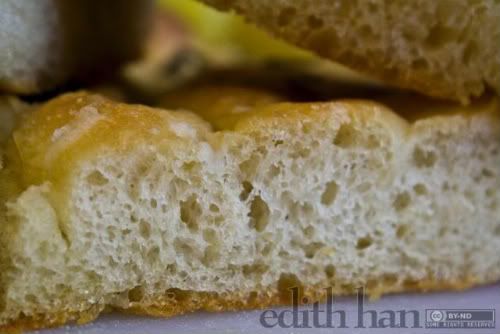 Look at that structure and crumb! It was soft on the inside and crusty on the outside... it was yummy. I usually don't really like things full of herbs (...I didn't grow up with basil and rosemary in my foods! We used more spices in Chinese cooking, I think. Even then, Taiwanese home-cooking tends to be on the lighter side of things...) I also don't usually like olive oil (although, I'm able to appreciate it more now). But this was so tasty. :)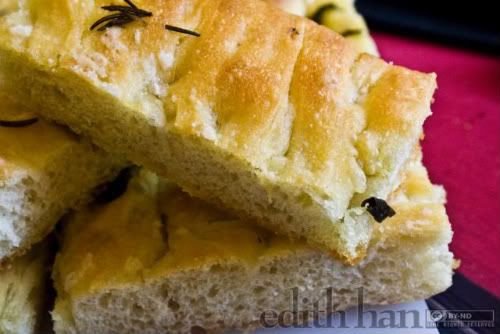 Don't you think so?