Greetings! So it's been a while since I posted about baked goods, but it doesn't mean that I haven't been busy with my lovely oven (Oh yes, I love it so... it's big enough to fit my large baking sheet, as opposed to my old oven in my old apartment which was tiny.) Also, I just went on a mostly spontaneous trip down to Pasadena with one of my good friends from high school, visiting his old college, Caltech, and his old college friends. It was a fantastic trip full of fantastic food... I haven't eaten out so much in so many days in a row in a while. Though, I suppose that's what happens when you go on a trip. I'm genius.
On the way down, we took Highway 101, a longer, but definitely more scenic drive down from the Bay Area down to the South. On the way down, we stopped by Morro Bay with its ridiculous fog, giant platters of salads, and shell stores, then Solvang, a quaint little Danish town (unfortunately, we arrived around 6:00, so everything was closed for the most part), and Butterfly Beach in Santa Barbara to walk along the beach at dusk (we missed sunset by about 15 minutes).
At Morro Bay, we stopped by Outrigger Restaurant, and I polished off a giant plate of Caesar Salad with giant prawns.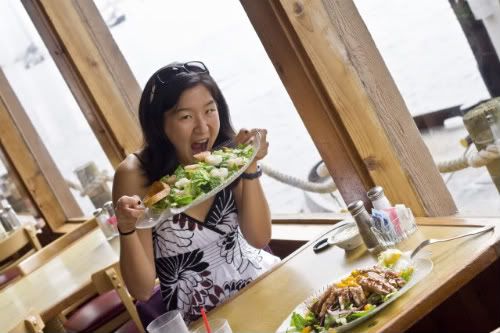 Photograph courtesy of Andrei Lita.
The giant plate sitting in front of me was an Ahi Salad with seared Ahi tuna, a delightful vinaigrette and a slightly spicy mango salsa. His was more delicious, but he decided to order it first, so I defaulted to my usual Caesar Salad with dressing on the side.
The next day, we ate at some Asian noodle restaurant in the Alhambra area for lunch, explored the Caltech campus, and eventually ended up at his newly-wed friends' house. There, we proceeded to eat dessert at
Bulgarini Gelato
, an amazing little gelato store tucked away in the back corner behind a Rite Aid in the middle of Pasadena. Although I wasn't too hungry, I snuck some bites from everyone else. Their chocolate gelato is slightly salted and was fantastic. The hazelnut gelato is made from hazelnuts freshly roasted and ground right there, and is amazing. They also had interesting flavors such as goat's milk with cocoa nibs (I'm not a fan of the goat flavor, but I can see how somebody who likes it would love it), lime with milk, cantaloupe, and just so many different unique flavors. I wish I had a chance to take photos, but unfortunately, I wasn't able to bring my giant camera with me.
After gelato, we proceeded to
Park's BBQ
in Korea Town in Los Angeles. There, I watched what was basically 3 small-ish guys finishing off what must've been about 7 or 8 pounds of beef--2 orders of Bulgogi (seasoned sliced beef), what I think was an order of another type of beef cut, and 1 order of beef tartar, which is raw ground beef with an egg (or just an egg yolk?) cracked over it. My goodness, I wish I had my camera to show just how much meat was consumed. I can't say how good the beef is since I personally do not eat beef (although, I did eat the smallest sliver of beef tartar just as a new experience, and, well, I guess it tasted like meat?), but the others seemed to like it. There was also an order of pork belly... I'm not a big fan of slices of fat, but I can see how it was good. The meat aside, though, Park's BBQ had an amazing assortment of small Korean dishes like kimchi, pickled cucumbers, and the like. All of it was great, and if you or your friends are big meat eaters, I suggest that you try out Park's BBQ. Next time if I end up there, I would love a chance to try out their marinated shrimp and assorted mushrooms (basically the only thing on the menu not beef and not pork belly).
The next morning, for brunch we all went to
Elements Kitchen
, which has an amazing and fantastic brunch menu. When my friend and I arrived (late, oops), there were small slices of a raspberry cream cheese danish that was delectable, and a piece of a candied ginger scone that I did not try, but had rave reviews. People ordered an array of things from Ebelskivers to Mac 'n Cheese with Truffle Oil to Banana Fosters French Toast to a Farmer's Market Salad.
What are Ebelskivers, you ask?
Here is a look into one:
What a beautiful breakfast pastry stuffed with home-made blueberry jam. If you look closely, there's a drip of amazing maple syrup dripping from it. Unfortunately, I did not know the other people well, so I was too embarrassed to ask for photos of their food.
But my Farmer's Market Salad was beautiful.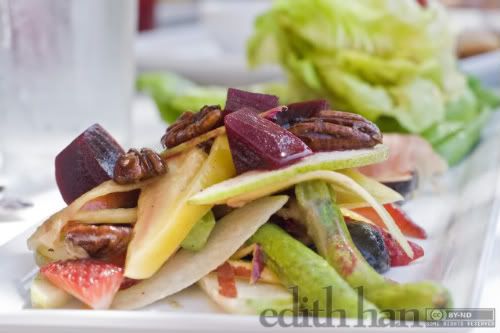 It was a decomposed salad (Yes!) composed of beets (I usually don't like beets, but it wasn't too bad in this salad), baby zucchini, figs, strawberries, pears, and heirloom tomatoes (which weren't too flavorful, alas), candied walnuts, prosciutto, and buttered lettuce with a vinaigrette drizzled on top. It was delectable, and the vinaigrette really tied things together. I had a bite of the Banana's Foster French Toast, and although I'm generally not a fan of french toast, this one was amazing. ...Maybe it just means that other french toast, including mine, wasn't amazing enough... :|
Anyhow, that was the culinary exploration for the past few days. If you're in the area, go check out these places--you won't be disappointed.
And now, back to the baking. I've been wanting to make Peter Reinhart's Casatiello, an Italian rich bread filled with pockets of cheese and spiced salami. I haven't had a chance to, just because, although I often have left-over cheddar from making quiches and such, salami isn't in my usual pantry, but I made a trip to Trader Joe's just because, and came back with this: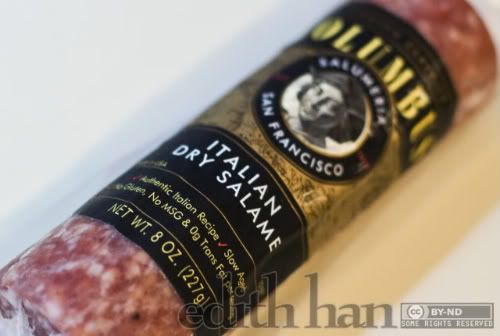 Which, after much mixing and kneading (oh my goodness, the mixing and the kneading...), I placed my dough in a 9" cake pan and sprinkled it with more sharp white cheddar: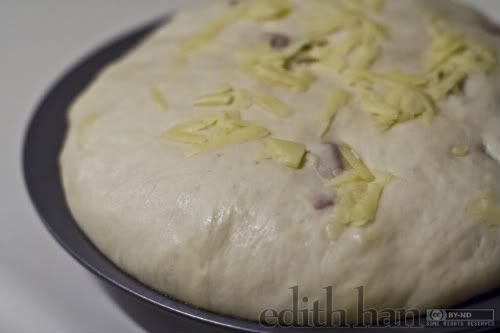 After the oven, resulting in: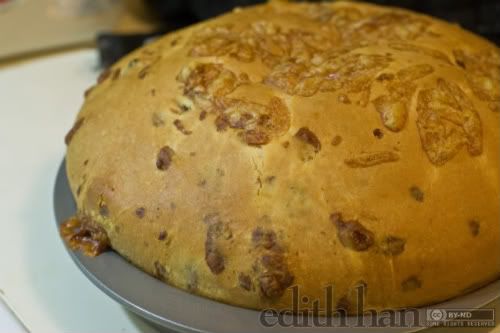 Isn't it beautiful?
And it was amazingly tasty. Which is amusing to me, considering I don't really like rich breads and I don't like salami, but it was still tasty, darn it! Next time, I want to cube the cheese more than grate/shred it, but I liked the white sharp cheddar as a choice for cheese. I was debating making a sort of "vegetarian version" with just different types of cheese. :d
I also made a whole wheat, low fat chocolate zucchini bread that day. I managed to only put half the sugar in compared to the original recipe... I had planned to halve the recipe, but then decided not to, but forgot about this fact when I put in the sugar. Oops. But it still didn't turn out too bad, and was polished off by people at my roommate's workplace.
Anyhow, that's all. I'm not really inspired to make anything right now... although, I did also pick up some agave nectar when I went to TJ's, and I have some bananas in the freezer, so I might play around more with the whole diabetic-friendly (or at least, more-friendly) banana bread loaf. I hope the amount of text wasn't too over-whelming, or, at least, was informative. :)
Cheers!