So apparently I was inspired enough to bake last night after all. I think part of it has to do with the fact that, since the only people that end up eating my baked goods are people at my roommate's office, I needed to get the baking out of me since he's not able to have any modes of transportation up here for basically the rest of the week.
First, I just wanted to show off a picture of my humble dinner, a simple pork soup.
This tends to be generally what I go for when I make dinner... often it's a nice pot of soup or stew, or the simplest stir-fry ever. I actually missed my simple home-cooked meals a lot during the mini road trip down south... I hadn't eaten out so much in such a short period of time in a while. Home-cooked meals are so nice, and can be so simple... not to mention healthier and cheaper, too! This soup is very simple. Beforehand, you get some pork ribs/bones from the market (in about 1-2" cubes) and parboil them to get rid of some of the excess blood, fat, and marrow, and then freeze that for a later date (or, just use right away). On the day you want to cook it, you boil a nice big pot of water with a slice of ginger. After it comes to a boil, you toss the pork in, let it come back to a boil, turn it down to a medium-low, and let the meat stew enough to make a tasty broth (use a ladle to scoop away the frothy bone marrow that floats to the top). Season with salt to taste. In the mean time, when it gets close, prepare your noodles. This time around I used... thick green bean noodles (also known as cellophane noodles, glass noodles... I think? I know the Chinese name...! English names are so confusing!) which I soaked in water first. Tossed the noodles in for a few minutes, tossed in (many) handfuls of spinach, and voila, it is done!
Meanwhile, there were tasty things on the rise...
Now it should start looking familiar...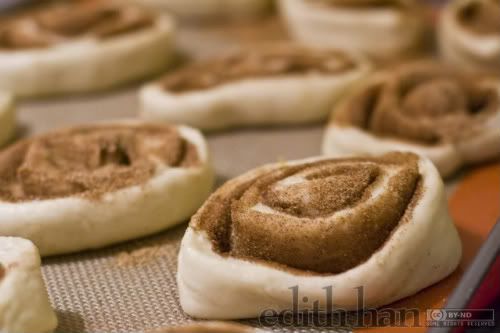 Especially after being baked...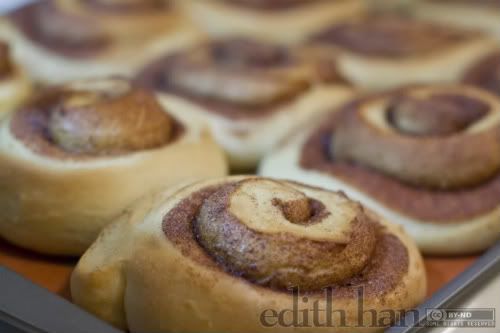 And finally, glazed!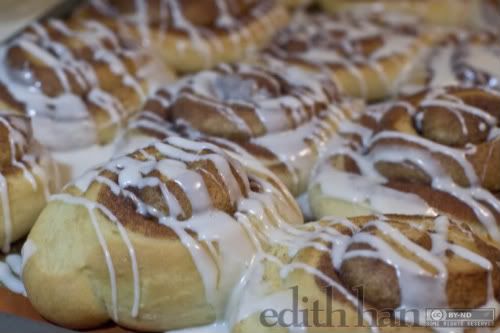 Yes, if you can't tell already, those are cinnamon buns. :d
I used Peter Reinhart's recipe this time around. I used to use just a recipe I found on
Allrecipes.com
which was fun, but a lot messier. Comparing the two... honestly? I don't know if I can tell the difference. It's been over half a year since I made the other cinnamon buns, though, and I wasn't as good at baking with yeast back then either. In fact, cinnamon buns were the first yeast breads I made! I think, in the end, Peter Reinhart's dough recipe stood up to the test, though... just with regards to how it tasted after it cooled down and how well it stood together. Another big difference between this cinnamon bun and any others I've seen is that the filling isn't overwhelmed by butter. Most other ways I've seen it done is rubbing softened butter all over the insides before sprinkling it with cinnamon and sugar. Personally, I like this way better, but that might be because I don't like butter. It's definitely a lot less rich and a lot less gooey and sticky, but it tasted wonderful, especially still warm. I decided to use a simple white glaze, which hardened beautifully. I usually prefer a cream cheese frosting, but since these were going to be eaten a whole day later by people running around the office... I figured this would be a nice solution... and it was great! It hardens ever so slightly when cooled, making it less messy (even though working with it was kind of messy!).
I heard reception at my roommate's office was good. :D This shall be my new go-to cinnamon roll recipe. ...I want to make the sticky buns some day. :D
Does it look amazing? (And so cute! It's like a little snail shell...)
(order some now! :P)
Oh yeah! And I baked another banana bread again... low fat, again, as usual, with whole wheat flour (half white whole wheat, and half whole wheat), and this time, with sugar cut down and replaced with agave nectar. That stuff is interesting... I need to experiment more with it at some later point. I also added some extra spices, and I think that they added a nice touch without really being over-powering, or even discerning. Must play around with that more as well... I have another 3 bananas frozen in the freezer...
Also, I totally need to just bake during the day instead of at midnight... my pictures turn out so much prettier with natural lighting, sigh.