Hi all! Okay, okay, I'm still alive, I promise. I'm sorry for being so MIA this month... thanks and apologies to those who have been continuously checking without anything exciting and new to see.
Honestly, it's been a kind of a dragging much in terms of productivity. This whole job search thing is extremely frustrating and I'm getting sick of typing up cover letters. So I have kind of avoided anything that involved typing a copious amount of typing and thinking. I feel guilty because I've been wanting to write a few posts about food and politics, but I just can't seem to bring myself to do it. Eventually, eventually.
But enough whining, it's still been a good month regardless. I've made some awesome friends, I'm actually getting out and being social, how exciting is that? I had a chance to watch my fellow dance girls perform once already!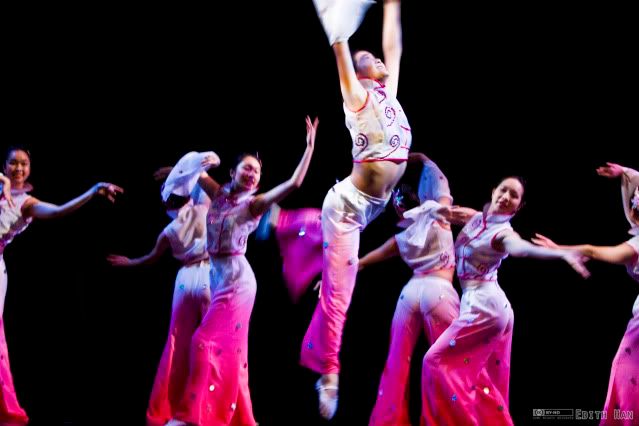 Aren't they beautiful? It's an epic dance, "Ode to the Plum Blossom," and it was an awesome performance. :)
So the past month has involved a decent amount of baking, including a cake for an order, a vegan cake for a fellow vegan friend, and 5 dozen cupcakes for a young girl's birthday!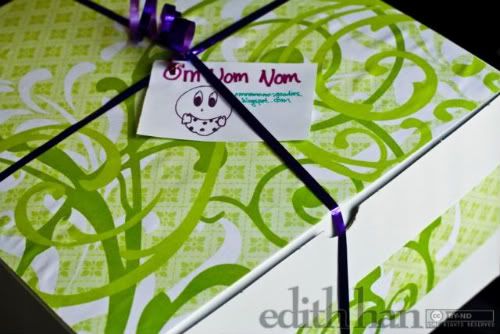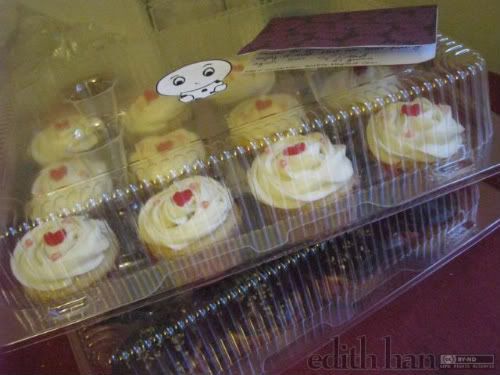 Click the jump for more cakes and cupcakes!
First, was a cake that my friend ordered for a friend's birthday. I still need to work on my piping skills... but it was kind of a hard order. It couldn't be too sweet, and not too chocolate-y, and not too rich, and more fruity, and... yeah. So I finally decided on a white cake with a berry filling and chocolate buttercream frosting.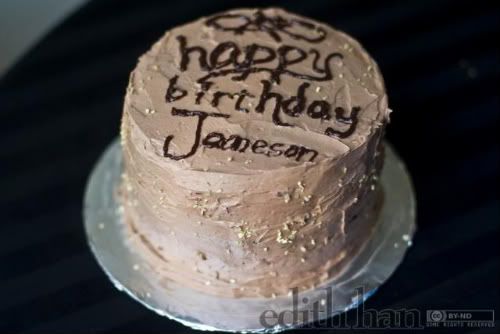 I need to work on the piping a bit, and figure out how to get a better consistency for piping chocolate, but not too bad for the first time in a while.
It comes in a pretty box and everything!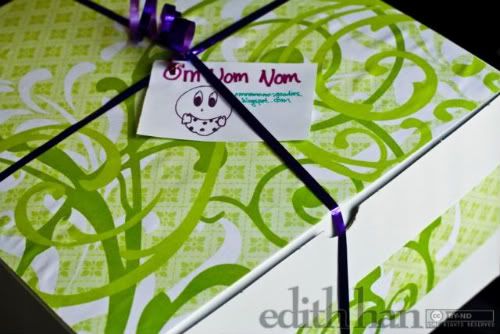 According to my friend, it was well-received, so yay.
Next, I had a friend's birthday, but he's also a recently converted vegan. I'm sorry, I love y'all vegans, but you make baking such a hassle. You can say what you want, but Tofutti (i.e. vegan cream cheese) and margarine just doesn't taste good and is far off from the real stuff.
Things I usually don't keep in the pantry...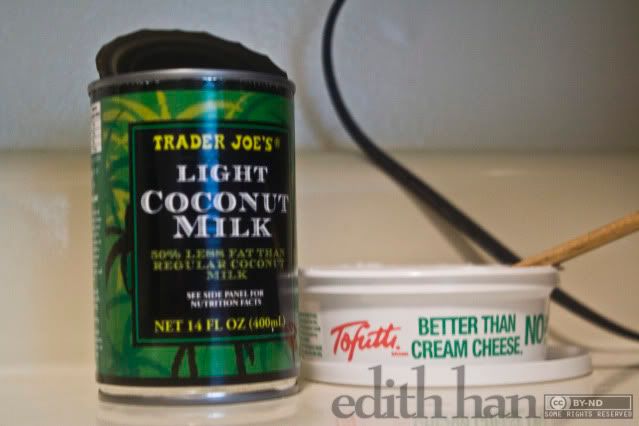 I ended up making a chocolate cake with a chai spiced vegan buttercream frosting. I adapted the recipe from
Vegan Cupcakes Take Over the World
, which is an awesome book, regardless if you're vegan or not, by the way. I added coconut milk to give it a richer taste.
Then, I experimented with the frosting. I began with Tofutti. I wanted to make a pomegranate cream cheese frosting. I reduced some POM juice, and in the mean time, tried this Tofutti thing. I'm sorry, it's just not great. I tried mixing in the POM juice, and to be honest, it ended up worse. So, I tossed that in the garbage. I took some softened margarine and made a buttercream out of it. Wow, okay. So I don't like buttercream because I'm not the biggest fan of butter, but in my opinion, buttercream is so much better than margarine-cream. After adding in my vanilla extract and my powdered sugar and a touch of cinnamon, I took a taste. ...And then I added more cinnamon. ...And then I decided to make it more spice-ful, and added in some cardamom and some ginger into it as well. ...And then more cinnamon and vanilla extract. I think that the combination turned out decently in the end, especially in combination with the (slightly coconut) chocolate cake.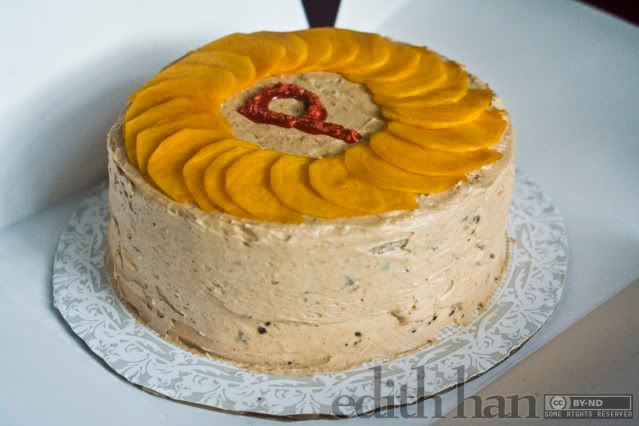 Then I topped it off with sliced persimmons (since he had mentioned that he liked persimmons just a week or so prior), and added too much food coloring to what was left of the buttercream, and made a big "P" on it! ...The "P" looks kind of gross, but it's okay, it tasted good! :P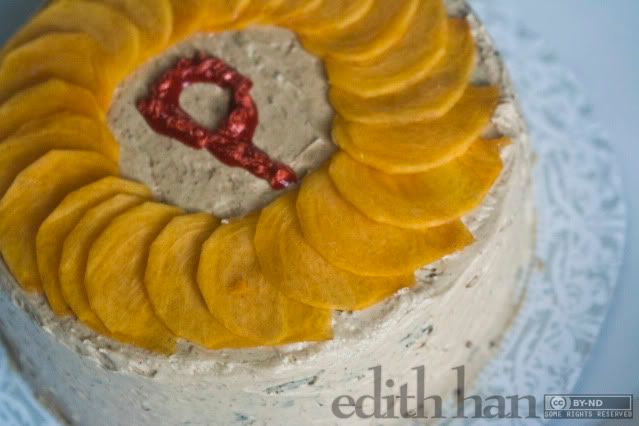 The response? I got an email titled "Vegan can live happily now!" with a body of text that included:
It tasted almost like some spicy south American chocolate I've had before, where the chocolate is enhanced by spices that seem to have been made for the sole purpose of being married with chocolate.
Me? Bragging? Okay, maybe a little, but it made me happy. :)
And last but not least,
cupcakes!!!
Somebody from my roommate's workplace has a daughter who was turning five! So his wife and I arranged for cupcakes for her birthday. :) In total, there were 5 dozen cupcakes ordered in the span of 2 weeks.
For one week, there were three types of cupcakes:
Lemon cupcakes with cream cheese frosting
Chocolate cupcakes with raspberry buttercream frosting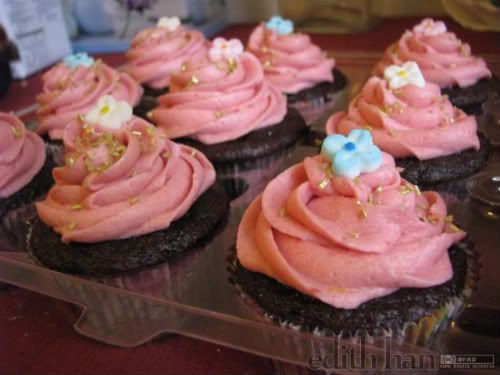 Vanilla cupcakes with strawberry buttercream frosting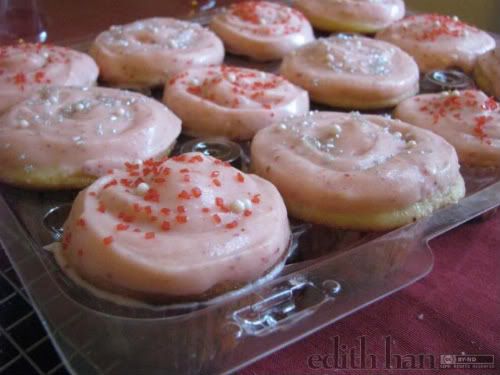 For the next week, there was once again, the lemon cupcakes with cream cheese frosting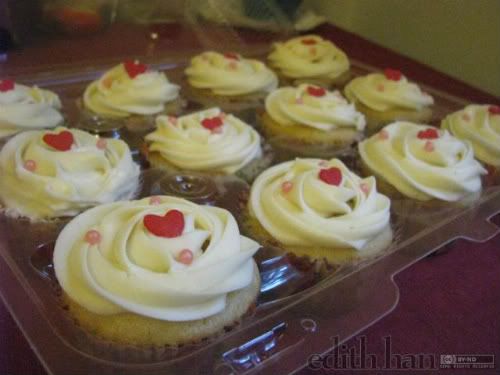 And passion fruit cupcakes with chocolate ganache!
By the way, leftover ganache is fantastic... it's like a giant blob of chocolate truffles... nommy...
Okay, that's all for now. I still have a lot of catch-up, and I'm going to be making a Post-Thankgiving dinner for people who don't have a family to go to for Thanksgiving and IT WILL BE AWESOME WITH SO MUCH BAKING.
Thanks a bunch to Adam who has been making me feel guilty about not writing. :P Hopefully this will tide people over for the Thanksgiving holiday...