(First off, I would like to say that whoever is taking my photos and putting them on myspace.com, please either stop, or at least let me know who you are.)
Hi all! I hope you guys had a fantastic Thanksgiving holiday, whether you spent it gorging on food, skiing or snowboarding, or what have you. I had the fortune of having TWO fantastic Thanksgiving meals. The first, being with my family. There was a huge table with mashed potatoes, cranberry sauce, and of course, a giant 16 pound turkey!
So my roommate and I drove down to my parents place. First off, I would like to say that the autumn colors are just gorgeous right now.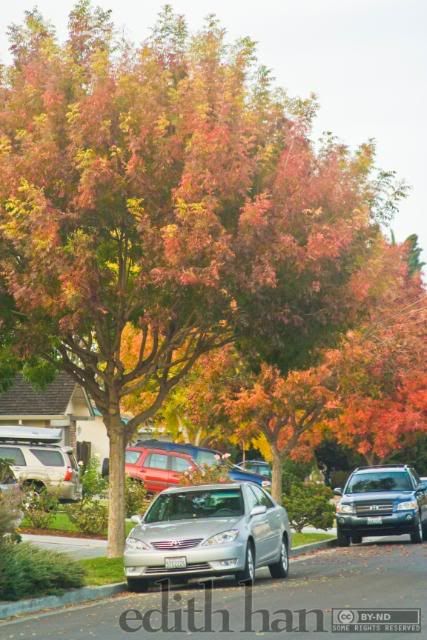 There was a whole day of cooking and cleaning, there were a few of us stacked up in the kitchen, with anything from maple sweet potatoes to clam chowder. Needless to say, there were definitely many cooks in the kitchen.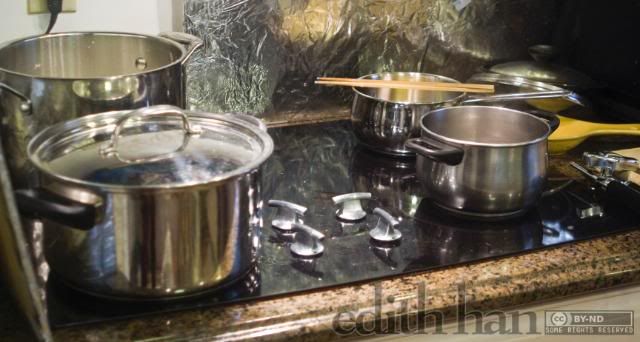 Click below to see more of the Thanksgiving feast!
First, I had spent the night before and the morning of preparing an apple pie and a celebration challah for the meal.
Oh challah, I will admit, you are so beautiful.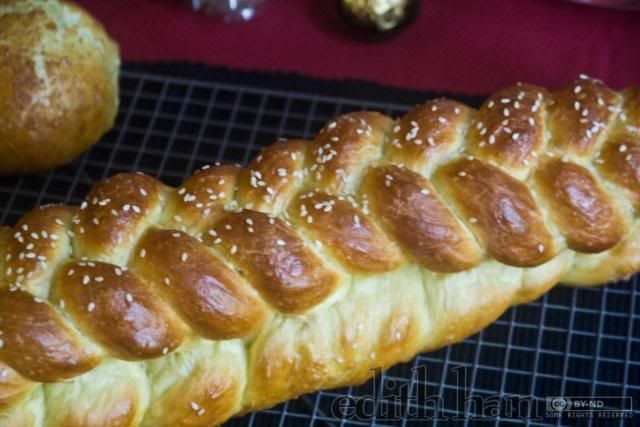 I made a double-crusted pie for the first time, and a lattice crust at that!
It was actually a lot of fun to make, and not too hard. I think my only problem is making sure that the bottom crust didn't get to warm and soggy while the top crust was being formed, and all that. I fixed that up a bit for the next Thanksgiving dinner. I even placed a ring of oak leaves around the pie and an apple for the center.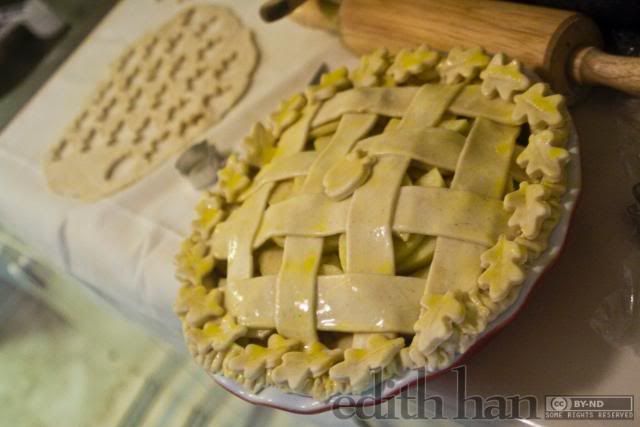 The pie crust definitely shrunk a bit, one side more than the other, and the filling was a little more watery than preferred, but I also wanted to avoid the terrible goo that often comes with apple pie.
When we arrived, there was much to do in the kitchen. My mom was in the kitchen working on the turkey and the maple sweet potatoes (which were OH MY GOODNESS AMAZING) and my brother was working on both a clam chowder soup and a french onion soup.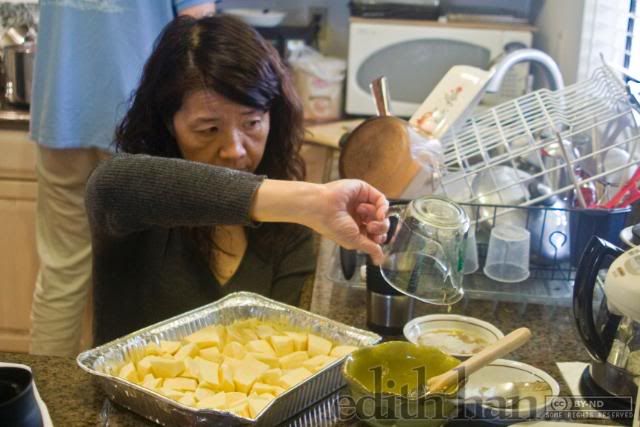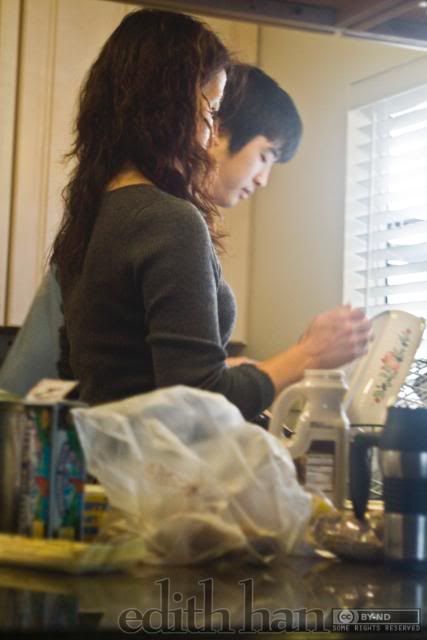 We helped! :D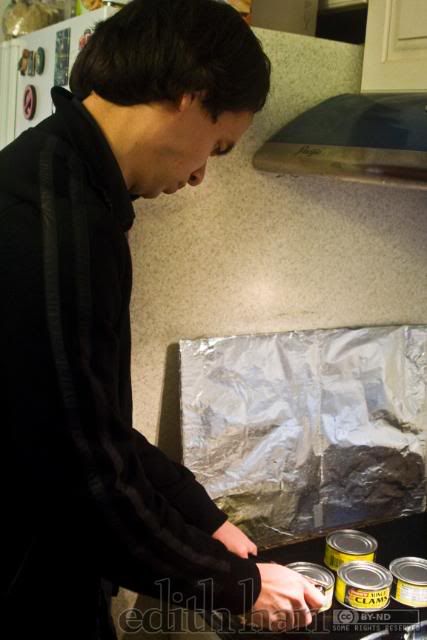 The table set was beautiful, as always.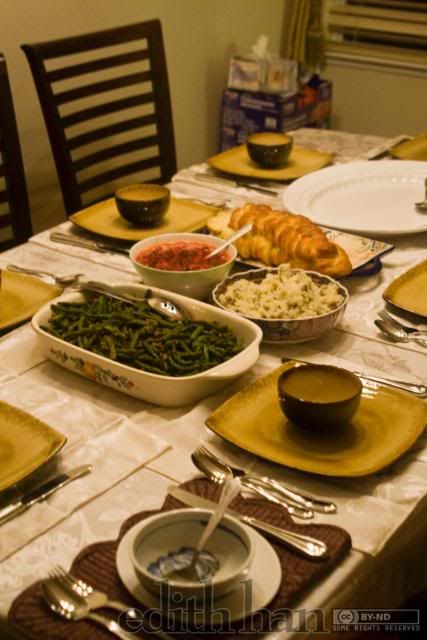 Unfortunately, the turkey took a little longer than expected to bake, so the food on the table (the garlic mashed potatoes, cranberry sauce, and green beans) were all getting cold. But they still looked pretty!
Still, the turkey was worth the wait. I think my mom makes the best turkey that I've ever eaten, bar none.
It's a beautiful 16-lbs bird that was brined for 2 days, and then brushed with juices followed by cooking sherry every hour or so. Some day, I will learn to make this turkey. Some day.
All in all, it was a fantastic feast, and there was apple pie, and someone brought home-made tiramisu!!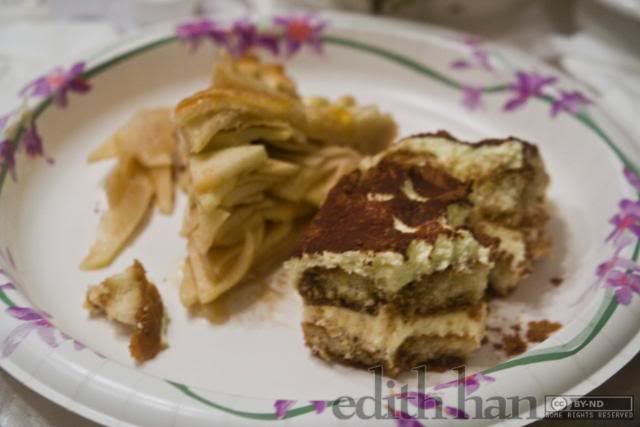 Then, two days later, I held a dinner party for those that didn't have a big Thanksgiving meal to go to. More on that later. :)