Hi all!
Long time no see, I know. I hope y'all had a happy holiday season, and started off your new year with a bang. :)
I know I'm ridiculously behind in everything, but at least it's good to know that I've been busy baking (and vaguely having a life), right? There have been Christmas goodies and parties and new recipes galore, and I have a ridiculous backlog of holiday foods to put up. I've decided that I'm just going to show some pictures of the food for the holidays for y'all, and then figure out the whole specific recipes later.
I'd make some silly new years resolutions about posting more or baking more new recipes, but that's just silly. (And the holidays were actually a good time to try out new recipes!) I think my new years resolutions will be to get a job and to apply for grad school. :P However, I am resolved to write more about food and politics at some point!
Click below to find out more about Post-Thanksgiving, Fancy Pants Party, and New Years! (Christmas dinners were good too, but not made by me) :)
(Warning: LOTS of pictures behind cut!!)
First, there was the Post-Thanksgiving dinner that I held for people that I promised to blog about, and then proceeded to disappear for the next month (plus a few days).
Unfortunately, I completely forgot about taking photos of all the food that I made for Thanksgiving... but there was a lot!
Something like this: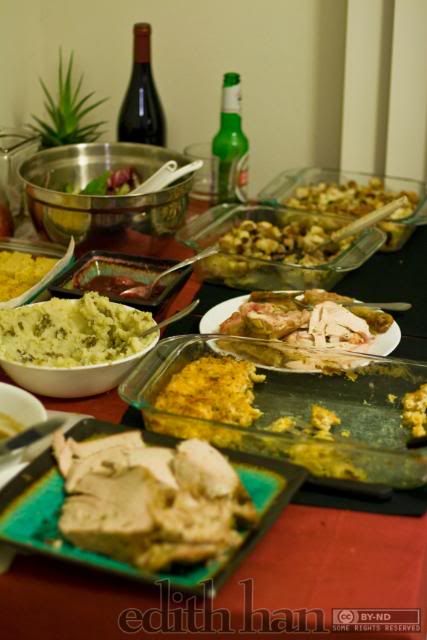 Except, that's just a photo of the main courses.
Nevermind the... cornbread, cinnamon cranberry challah rolls, the pumpkin pie, the apple pie, the... you get the idea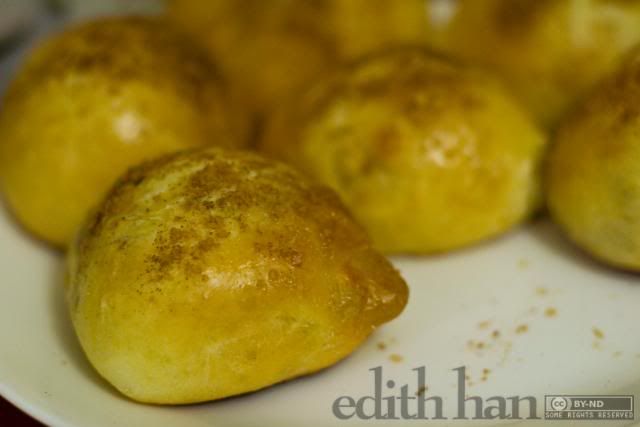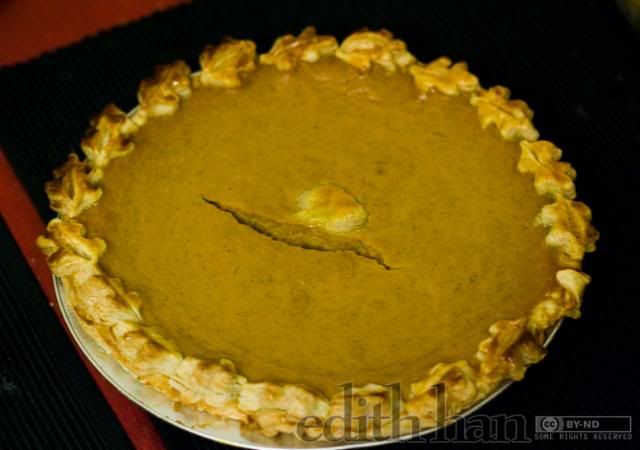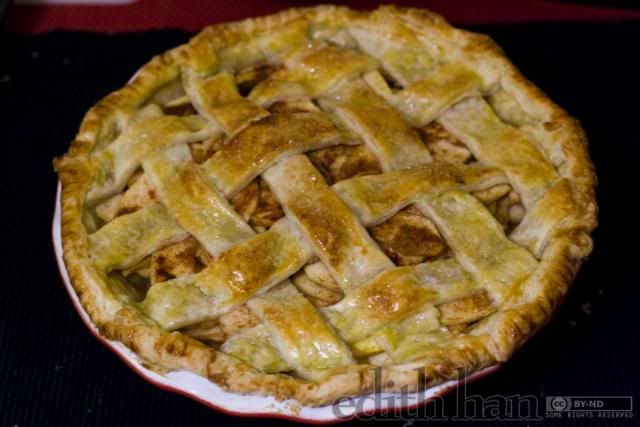 Maybe it'd just be easier to list the menu... (again, with vegetarian options!)
Appetizers
* Braided Challah Ring (veggie)
* Cinnamon Cranberry Challah Buns (veggie)
* Cranberry and Feta Mixed Greens Salad with Raspberry Vinaigrette (veggie)
* Cornbread (veggie)
* Spinach Artichoke Dip (veggie)
Main Course and Sides
* Orange Cranberry Sauce (veggie)
* Turkey Wild Rice Soup (thanks to Peter for helping out with this)
* Roasted Garlic Mashed Potatoes (veggie) (thanks to Mike for helping out with this)
* Turkey Gravy (from Trader Joe's)
* Roasted Whole Chicken
* Baked Macaroni and Cheese (veggie)
* Chicken Sausage, Apple, and Cranberry Stuffing
Desserts
* Pumpkin Pie (veggie)
* Apple Pie (veggie)
Whew... that was a long list.
Then there was the post-exam pre-holiday Fancy Pants Party! Basically, a bunch of us dressed up, got together, and then proceeded to eat tons of food and play Twister while dancing around the living room. We're awesome.
Me and food!
Photography courtesy of Daphne Szutu
And, of course, this was only the appetizers: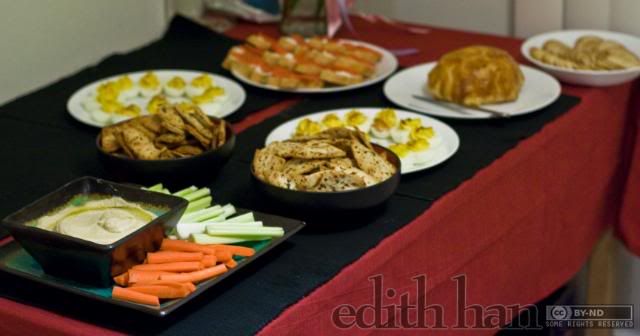 This was getting ready... peppermint oreos in the making...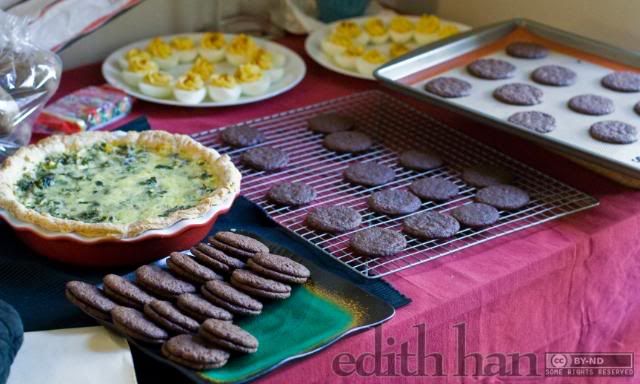 And who can resist the artistic shot of the hummus with the appetizers in the background?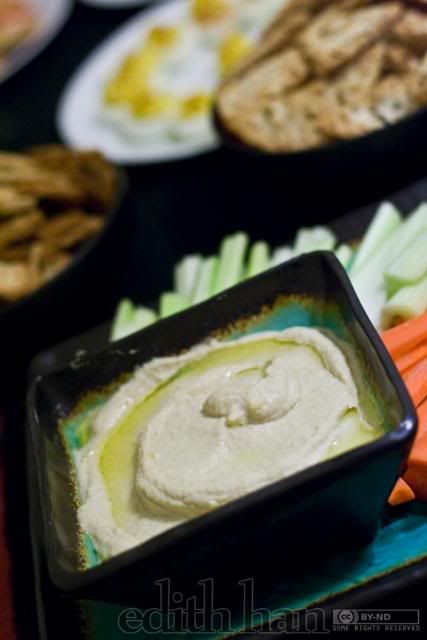 And the baked pita chips that went with it.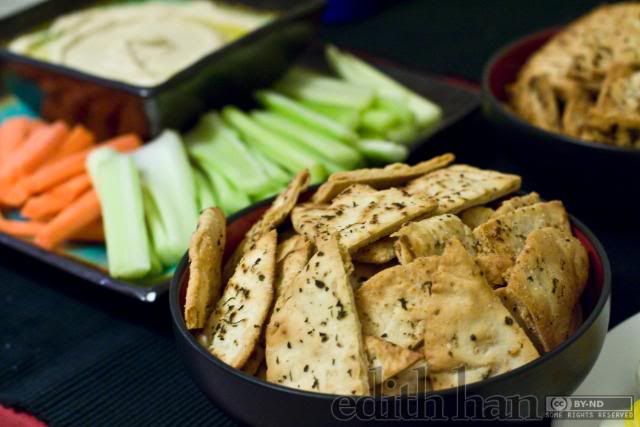 So for the menu, and then another bombardment of photos! (I know you're here for the food porn anyway...)
Appetizers
* Deviled eggs (veggie)
* Hummus with baked pita chips and crudites (veggie)
* Baked brie with cranberries (veggie)
* Smoked salmon with cream cheese
Main dishes
* Zucchini pasta bake (veggie)
* Spinach feta quiche (veggie)
* Chicken and rice casserole
Dessert
* Peppermint oreo cookies!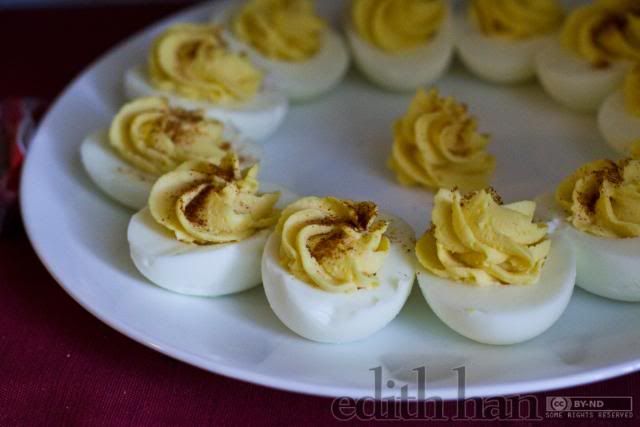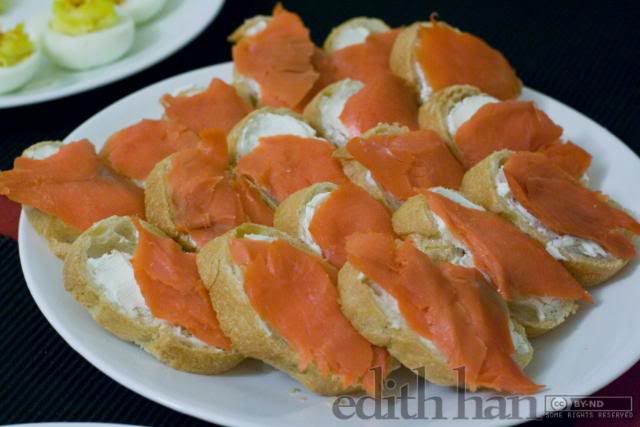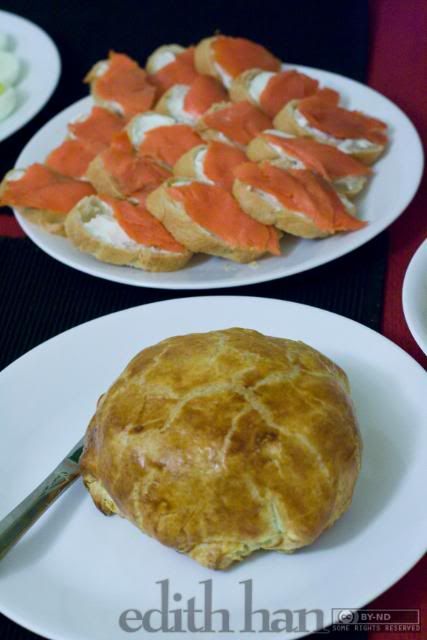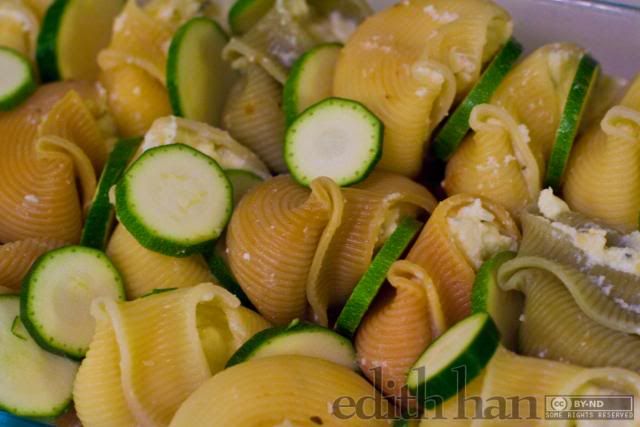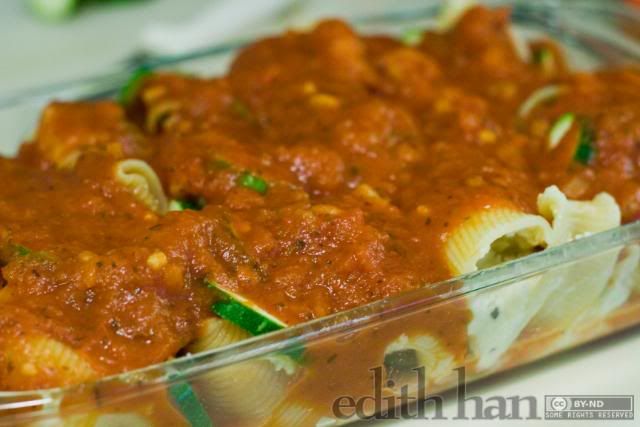 Aaaand finally, there was new years eve, where two others and I hung around eating home-made pizza and creme brulee!! It was tasty and fabulous. We attempted a Batman marathon (all the good ones... Batman, Batman Returns, and Batman Begins), but kind of failed.
But the pizza was goooood... BBQ Chicken in the foreground, with a soon-to-be-baked Hawaiian pizza in the background!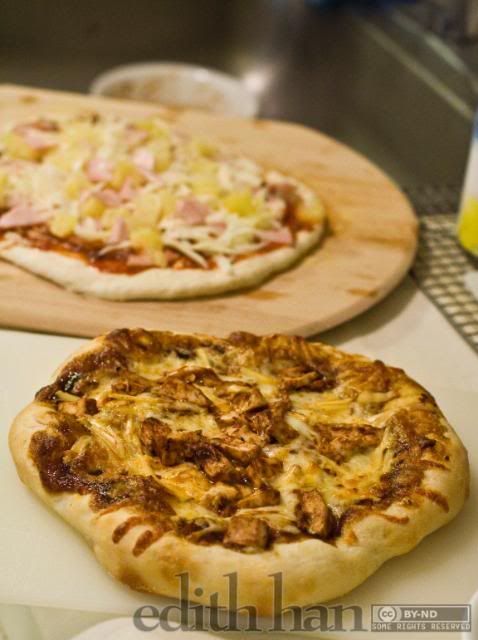 There was:
* BBQ Chicken Pizza
* Hawaiian (pineapple and Canadian bacon) Pizza
* Italian Pork Sausage Pizza
And, last but not least, vanilla bean creme brulee. I shall dedicate a whole post to this some day...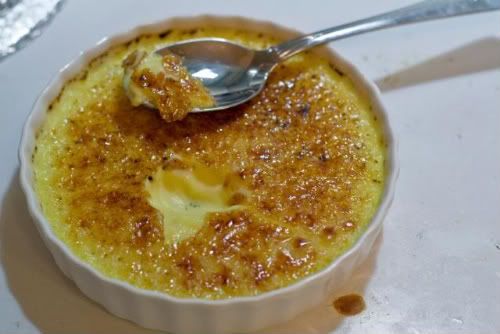 Oh, and contrary to what most people believe, I so do eat my own cooking.
Photograph courtesy of Mike Ross.
That's it for now...! Hopefully I'll be back real soon. :)