Look, look, a post! Here is the promised creme brulee recipe. I love cracking the layer of caramel on top... :)
For Christmas, my roommate gave me a kitchen torch (I know, Edith + fire? Sounds like a disastrous combination, I know. It's okay, you're probably right. But I'm still okay for now!) and his parents gave me some beautiful creme brulee ramekins. So I'm not much up for the multi-tasking baking dishes for the most part, and the deeper ramekins that most people use are nice, but these are just beautiful.
And, honestly, my favorite part of the creme brulee is usually the burnt sugar on top, so these shallow ramekins give just the perfect portion of burnt sugar to custard. It was seriously nommy.
Creme brulee (with its respective accents that I don't know how to do in Blogger) means "burnt cream" in French. It is a dish that is comprised of a rich custard bottom layer and a top layer of caramel. There are so many various recipes out there, each with their own ratio of egg yolks to various types of cream/milk to amount of sugar. Having never really made custard (I tend to avoid it... my fear of tempering anything makes me avoid certain recipes... but I'm working on that!), I wasn't sure which recipe sounded the best. Also, many of the recipes came with fancy flavors like lavender or ginger or chocolate, and I just wanted a simple vanilla creme brulee. However, I knew that I didn't want something too sweet and tasting too much like egg yolks. So, after reading about 15 different creme brulee recipes, I decided to combine a few of them and make my own vanilla bean creme brulee recipe. (Don't ask me which recipes I combined... there was like, a combination of 3... so it's kind of my own recipe, right?)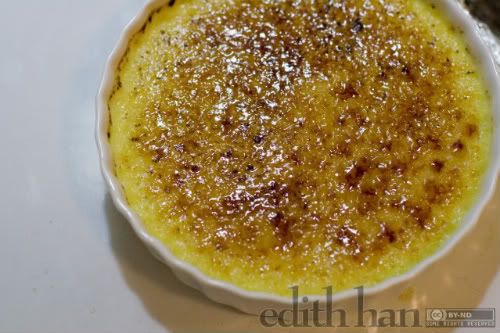 It was delicious. I generally don't actually really like creamy things, especially custard, but I loved the flavor in this, and I think the people that ate it liked it too. :) Click below for more pictures and recipe!
Vanilla Bean Creme Brulee
Makes 3 creme brulee (6-7 oz ramekins)
Ingredients
* 4 egg yolks
* 1 1/2 cups heavy cream
* 1/4 cup granulated sugar
* 1/2 vanilla bean
* Caramel: Turbino (raw) sugar
Directions
1. Preheat oven to 300F. Have a pot of boiling water ready.
2. Use a paring knife to split vanilla bean in half length-wise. Scrape out of the seeds into a saucepan. Add cream, stir the mixture, and toss in the rest of the vanilla bean. Set the pan over medium-low heat until steaming and barely bubbling. Remove from heat and let steep for 15 minutes. (If using vanilla extract, add later and just heat the cream and skip the steeping step).
3. Meanwhile, whisk together egg yolks, sugar, and salt until thick and pale yellow.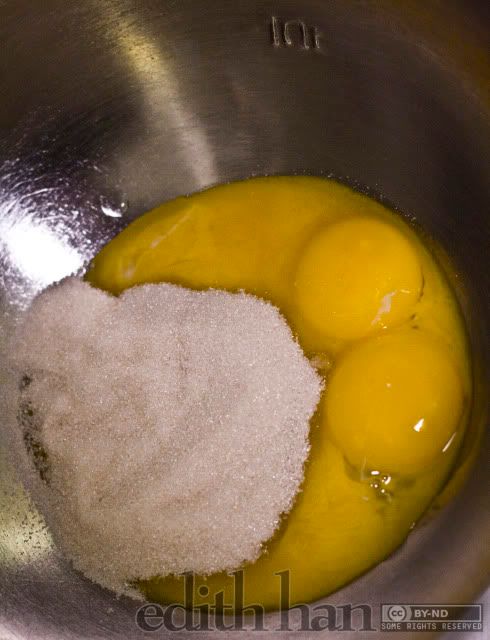 4. Drizzle 1/4 cup warm cream into egg yolk mixture, whisking all the while, so the yolks don't curdle. Slowly drizzle in rest of cream until all blended (make sure you get all those vanilla bean seeds!). Pour through a fine-meshed sieve into a clean bowl.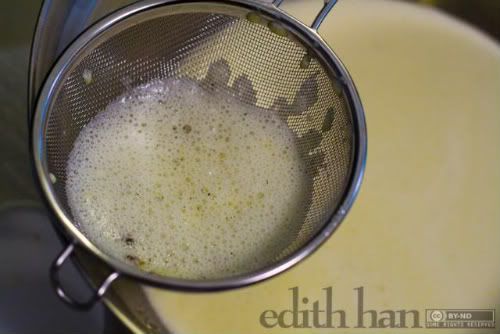 5. Place ramekins into baking dish. Divide custard into ramekins. Pour boiling water into baking dish (as a water bath) until half-way up the ramekins. Cover pan loosely with aluminum foil and bake until the custard is set around the edges, but still jiggly in the middle. Depending on the size of the ramekins, but my crème brulée dishes took about 20 minutes.
6. Take out pan and let cool on wire rack to room temperature, keeping aluminum foil on top.
7. When room temperature, cover with plastic wrap and chill in refrigerator until ready to serve (for at least 4 hours up to 3 days, but I did it with just 2 hours, and it was okay, but the custard was a little too soft.)
8. Just before serving, sprinkle a "reasonable" layer of turbino sugar evenly over custard. Using kitchen torch,
TORCH THAT SUGAR BUAHAHA
melt the sugar until browned.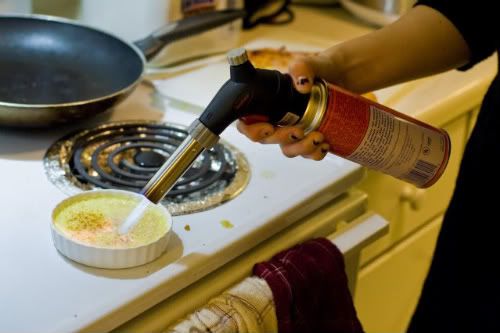 Photograph courtesy of Mike Ross.
9. Top with fruit if desired, and serve within an hour of torching!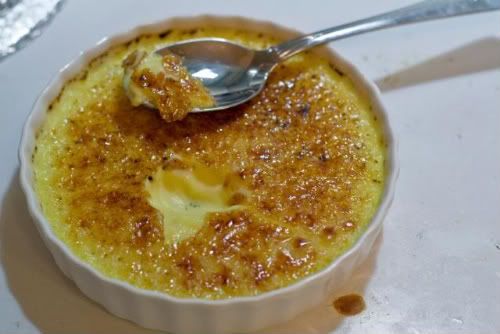 I was going to top mine with sugared blueberries or cranberries or caramelized bananas, but I ran out of time and forgot as well. Oh well, it was still tasty. :) You can use the left-over egg yolks for meringues or pavlovas! I was going to do that, but I've been busy and kind of forgot about them in the refrigerator, oops.
Anyhow, if you don't have vanilla bean (it's pretty darned expensive), you can substitute vanilla extract (1/2-1 Tbsp? I'm not sure on this one... need to try it some time... but it's just not the same as vanilla bean, though) and I know you can use the broiler to caramelize the sugar, but the problem is that the broiler tends to heat up the custard as well. Enjoy, and see you soon!