So a continuation of the SoCal/LA trip... on the Sunday morning we were planning on leaving, we wanted to leave fairly early so we could hit up Solvang for lunch on the way up and then to stop by at Monterey Bay for dinner. Uuuunfortunately, the LA marathon happened to going on that morning, and it ran right in front of the hostel, so we couldn't actually drive out of there until noon-ish or so.
So we decided to walk to the Hollywood Farmers Market, which we had planned to go to originally (but it was supposed to have been delayed due to the marathon, but apparently people were setting up early anyway). It was so worth it! It was probably one of the best farmers market that I've been to.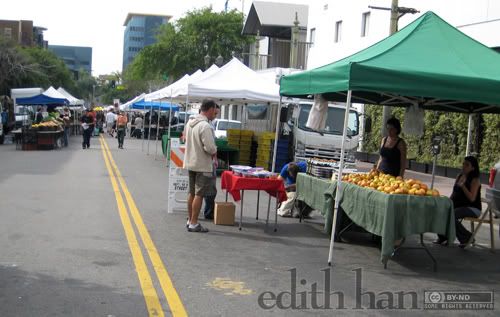 The farmers market was extremely big, and oh, the samples. The samples were delicious and so filling (it was pretty much a mini-lunch for us, hehe). Not only that, all the produce was just fabulous. They were big, they were pretty, the prices were decent, the vegetables were leafy and green, and all the samples that we tried were so sweet and juicy. Also, what really caught my eye was the fact that there were
so
many fresh herbs!! Just bunches and bunches of a variety of great looking fresh herbs.
There was a great sorbet stand which had the most delicious cucumber sorbet... Carmela ice cream. The berries down there were delicious and sweet. Finally, there was the most awesome stand of dried fruist and dried nuts.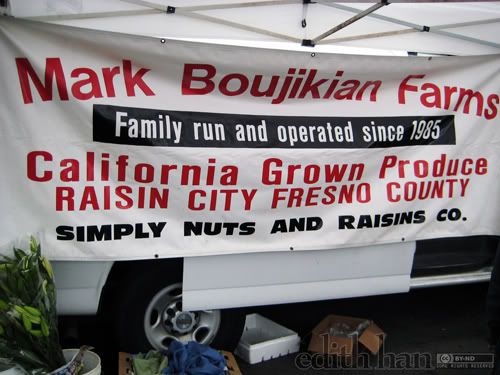 If you know me at all, I love dried fruits. I even stopped by Casa de Fruita on the way down this trip, hehehe. But the dried fruit here rivaled those at Casa de Fruita, and was so much cheaper! I got some dried plums (which are so so so delicious) and a great mixture of giant dried raisins (with red raisins, golden raisins, regular raisins, and all different kinds!). So good. OH! And their dried persimmons are SO GOOD. Best dried persimmons ever... thick and still juicy inside. And they weren't shy about sharing their samples either.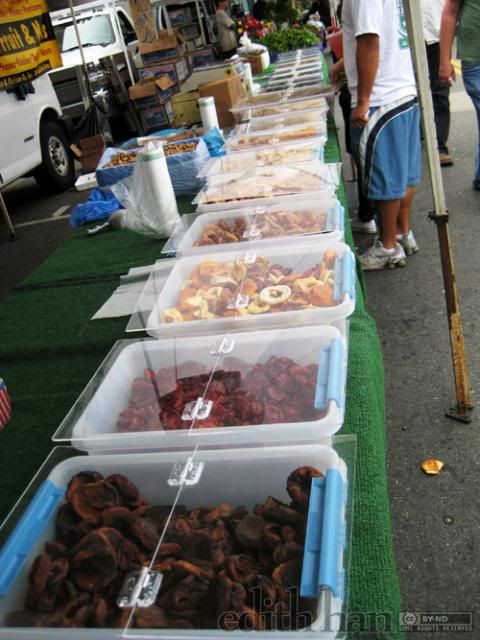 Anyhow, if you live in the LA area or happened to be visiting there on Sunday mornings, and if you love farmers markets, I highly suggest that you stop by there. <3