One of my favorite types of restaurants to eat at are Japanese restaurants, especially if they have good sashimi or a delicious bowl of udon noodles (I love seafood and soup, what can I say?). Considering I don't really eat out much, especially these days, I didn't want to be stuck at some restaurant with mediocre sashimi. So after browsing Yelp and visiting a billion restaurant websites for their menu, I settled on
Murakami
in the Hollywood district, which had the best rating for sashimi aside from some ridiculously expensive and ritzy Japanese restaurant.
I think it was the perfect choice for a late afternoon meal after a giant breakfast and wandering around LA for a good part of the day. The portions weren't gargantuan, but rather perfectly sized, I believe. They focus largely on sashimi plates with some salads and some rolls. I'm not a big fan of rolls, and so therefore didn't order any, but if they're as good as their sashimi plates and salads, there's nothing to worry about.
It's a quaint, unassuming place with bright orange walls and funky drawings on the wall. You walk up to the counter to order and try and grab one of the 4 or 5 tables that are inside. My roommate was at first curious and surprised that this place received such a high rating on Yelp.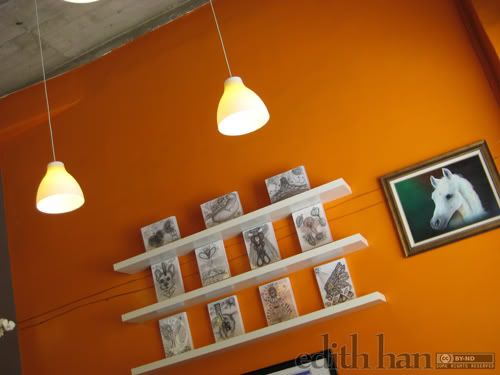 But don't let size and looks fool you. Their food is fresh and delicious. My roommate and I went with another friend we met at the hostel, and we all thought it was a good find. The sashimi is very fresh, the prices are decent for good sashimi/sushi, and everyone was very full and satisfied when we left.
I wasn't expecting any good, light vegetables at the Dreamworks party later that day, and I wasn't sure I'd be able to finish off a whole plate with rice and a salad, so I opted for the sashimi salad. The sashimi salad came with a fresh bed of greens topped with about 3 slices each of tuna (which they gladly let me exchange for more salmon!), salmon, albacore, yellow tale, and shrimp. It was also topped with cucumbers, tomatoes, kaiware sprouts, and sesame seeds, and dressed with a nice homemade miso dressing. The miso dressing wasn't actually my favorite--I think the sesame taste was a bit strong, and I would've wanted a little more of a miso flavoring to it, but it was still good.
The other two guys ordered the Murakami plate, which has fresh sashimi with sushi rice topped with cucumbers, nori, and sesame seeds with a side salad with miso dressing. They have a list of sashimi combinations that you can order, or you can even mix and match your own plate, how awesome is that? They both got the sunshine plate, which comes with avocado, salmon, and fresh crab. My roommate also ordered an extra side of tuna on top of that as well.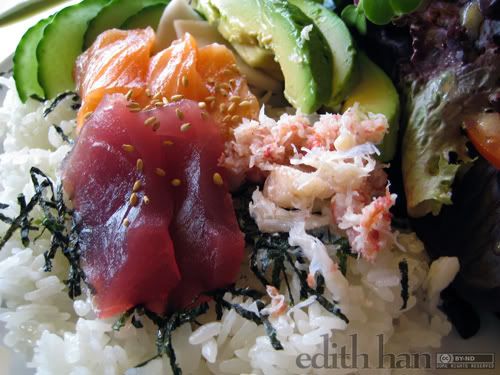 The plate was huge and delicious. I had a chance to try some of the crab and some of the sushi rice with nori on top. Oh my goodness, the crab was fresh and delicious... I love fresh crab, and I haven't had it in so long. I wanted to eat his whole serving of crab. :| The sushi rice was also fantastic. Although the sashimi is relatively good around the East Bay, I haven't really had some really good sushi rice on the side. It had just the right amount of stickiness and flavoring. Aaaah! I wanted to eat a whole bowl of it. And I might have if (a) there wasn't going to be food in just a few hours, and (b) if I didn't need to fit into my Chinese dance costumes that I can't quite squeeze into comfortably anymore for a performance coming up in April. Oops.
Anyhow, if you love Japanese food, and more specifically, if you love sushi and sashimi, and you're willing to shell out a little bit of money, this is the place to go for a good meal. And if you want to go someone who is a vegetarian, they also have some vegetarian choices as well. :)