Happy
St. Patrick's Day
, everyone! :) So I'm really sad I missed Pi Day. :( This past weekend was extremely full of baking (which I'll post about later), people, and dance, so I didn't get a chance to make some pie. :( But at least I thought about it? Happy belated Pi Day everyone! But anyway, back to St. Patrick's day.
I wanted to make something exciting and fun for St. Patrick's day that I would not otherwise make. I thought about making some Irish Soda Bread, but trying to research the most authentic Irish Soda Bread was getting tiring, and it's not really somethign you give out to everyone. But everyone loves cupcakes, right?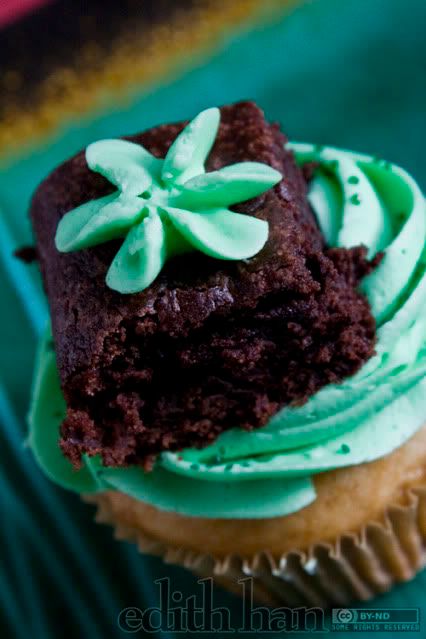 What is that beautiful thing, you ask? Irish cream cupcakes with Irish cream mint frosting topped with an Irish cream brownie.
Yep, I walked over to BevMo! in the beautiful weather yesterday, and got myself a bottle of Bailey's Irish Cream. I will be honest, I'm not exactly a drinker and I don't really even like the smell of whiskey, but hey, other people seem to like it, so why not. Recipe and more photos behind the cut. :)
So these cupcakes were so vibrant and colorful that it pushed me to try and take better photos of my food. I'm often too lazy to set up a reflector (rather, not often, but always) and I often don't bother waiting until the next morning to take photos, but these were too pretty to pass some working with better lighting.
So this cupcake can also be adapted to make various flavors. I'm sure a bit of cocoa powder mixed into the cupcake batter would make for a nice chocolate Irish Cream cupcake. You can probably use other flavored Irish Cream such as Bailey's Mint Chocolate or Caramel flavored Irish Cream. (Ditto for the brownies, too!)
Irish Cream Cupcakes
Makes ~30 cupcakes. Cupcakes adapted from
Susi's Kochen Und Backen
. Brownies adapted from
Baking Bites
.
Ingredients
Irish Cream Cupcake
* 2/3 cup unsalted butter, softened
* 2 cups granulated sugar
* 2 large eggs, room temperature
* 1 1/3 cups Irish Cream Liqueur (I used original Bailey's)
* 2/3 cup milk
* 4 cups AP flour
* 2 tsp baking powder
* 1 1/4 tsp salt
Irish Cream (Mint) Buttercream Frosting
* 1 cup (2 sticks) unsalted butter, softened
* 3-4 cups powdered sugar (to taste and consistency)
* 2-4 TBSP Irish Cream Liqueur (to taste)
* 1/4 tsp peppermint extract (optional)
* green food coloring (optional)
* green sanding sugar (optional)
Irish Cream Brownies
* 1/3 cup butter, melted
* 1/3 cup granulated sugar
* 1/3 cup dark brown sugar
* 1/3 cup cocoa powder
* 1 large egg, room temperature
* 1 tsp vanilla extract
* 3/4 cup AP flour
* 1/4 tsp bakign soda
* 1/4 tsp salt
* 1/2 cup Irish Cream liqueur (I used original Bailey's)
Directions
Cupcake
1. Preheat oven to 325F. Insert liners into cupcake pans
2. cream together butter and sugar until light and fluffy. Add in egg one at a time and vanilla extract until combined well.
3. Combine liqueur and milk in one bowl. In another, combine the flour, baking powder, and salt.
4. Add the flour mixture, alternating with the liqueur mix, in 4-5 parts. Mix until just combined. The batter will be a little thick.
5. Fill cupcake liners 3/4 full. Bake for ~20 minutes, or until toothpick inserted into the center of the cupcake comes out clean. Cool on wire wrack. While cupcakes are baking and cooling, prepare brownie batter and frosting.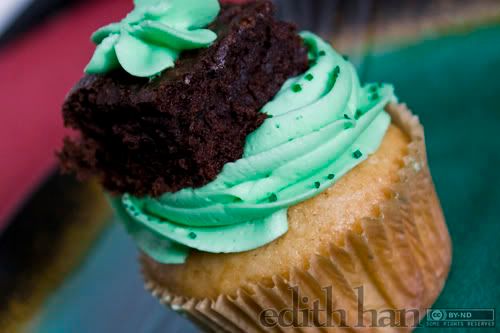 Brownie
1. Preheat oven to 350F. Line 8"x8" baking pan with tin foil and grease lightly.
2. In medium bowl, whisk together melted butter, sugar, and cocoa powder.
3. Add egg and vanilla until just combined.
4. Whisk in liqueur until smooth.
5. Whisk in baking soda and salt.
6. Add flour and whisk until no streaks of flour is left.
7. Pour batter into prepared pan and bake for 20-25 minutes, or until toothpick test comes out with a few crumbs, but no uncooked batter.
8. Using foil, remove from pan and cool on wire rack.
Frosting
1. Beat softened butter, beginning with 2 cups of confectioner's sugar.
2. Add 1-2 Irish Liqueur to butter mixture along with the peppermint extract (if desired. You can even add more, just make sure the mint won't overpower the liqueur.). You can also add the green food coloring now.
3. Add confectioner's sugar by the 1/2 cup and the liqueur by 1/2 TBSP, until you have achieve the right consistency and the right flavor (hey, some like it strong).
4. Put in bag and pipe onto cooled cupcakes.
Then you can decorate your cupcake as you desire!