So not only was I obsessed with making all sorts of buns last week, but I also had so many lemons sitting on my dining table... I had gotten a giant bag of lemons and a giant box of meyer lemons (yay Costco), and they had been sitting there for, well, forever, and some of the meyer lemons looked like they were on their way out. So, as much as I love the idea of making lemon-y things, it's actually hard to find lots of good recipes that require a lot of lemon juice. Most things require just the lemon zest, or just a tablespoon or two of lemon juice, and I didn't feel like making lemon curd. For some odd reason, I liked being able to bake the lemon-y innards... maybe because it makes it easier to deliver to other people? Who knows.
Anyhow, I finally after going through so many food blogs and so many pages on Google, I came across this recipe for a meyer lemon tart on the New York Times online, and figured that I'd give it a go. It was adapted from Alan Tangren's recipe, who was a co-pastry chef at Chez Panisse (well known high-end restaurant here in the East Bay). Sounds credible, and most importantly, used 5 or so lemons!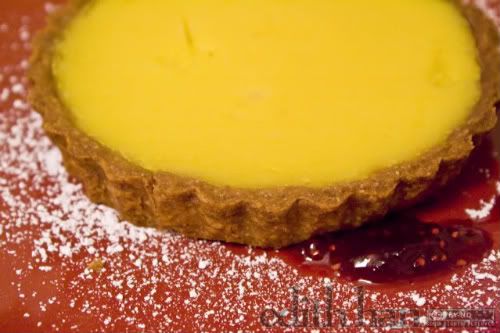 The result? Full of deliciousness... tasty shortbread crust that didn't shrink too much, and a delicious lemon-curd-like filling that was baked with the tart. It requires so many eggs and so much butter, but, well, it's worth it.
This is such a yellow dish. Yellow is such a bright and happy color...! All the ingredients and the final product are full of yellow. I don't usually like yellow, but for some reason, yellow food always looks so deliciously happy.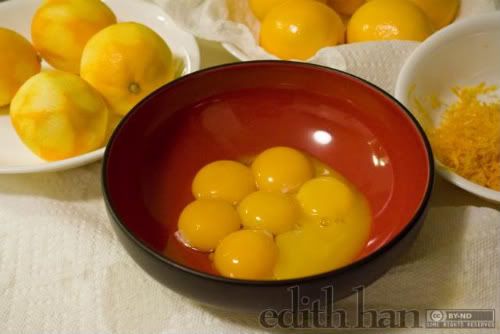 Yes, it uses a ridiculous amount of egg yolks, but also so much lemon!
Meyer Lemon Tartlets
Makes 1 10", or 8 4.5" tartlets. Adapted from
Alan Tangren
.
Time: ~1.5 hours, plus at least 1 hour for chilling tart dough
Ingredients
Dough
* 1 cup (2 sticks) butter, softened
* 1/2 cup sugar
* 1 egg yolk
* 1/2 TBSP milk
* 12 oz (~2 1/3 cup) AP flour
* 1/4 tsp salt
Meyer Lemon Filling
* 1 cup meyer lemon juice (~5 lemons)
* zest of 5 lemons
* 1/2 cup + 3 TBSP butter (5 1/2 oz), softened
* 1 cup sugar
* 1/4 tsp salt
* 7 egg yolks + 5 eggs
Directions
1. Begin with the crust. Cream together 1 cup butter and 1/2 cup sugar. Then, add 1 egg yolk and and milk and beat to combine. In another bowl, sift together flour and salt. Slowly add flour flour to butter mixture, stirring until completely blended. Gather dough into two balls. If making one tart, freeze one half. If making tartlets, put both in the refrigerator. Let chill for at least 1 hour.
2. Heavily butter tartlet pans with removable bottom. On a lightly floured surface, roll out dough to 1/8" thickness. Cut out circles larger than tartlet pan (~1" space around the pan). Transfer dough to tart pan. Press into the pan and trim the edges. Prick bottom with a fork a few times, and place the shell in the freezer for 30 minutes.
3. While the tartlet is in the freezer, prepare lemon curd. Combine juice and zest in a saucepan. Add 1 cup of sugar, 1/2 cup + 3 TBSP butter, and 1/2 tsp salt. Place saucepan over medium heat, stirring a couple times until the sugar is dissolved and the butter is melter.
4. In a large bowl, combine egg yolks and eggs until blended. Slowly add the hot lemon mixture to eggs until blended. Start really slowly at first, otherwise your eggs will cook and curdle! When lemon mixture is fully incorporated, put egg and lemon mixture back in the saucepan over
low heat
. Whisk the mixture constantly until the mixture thickens to a pudding-like consistency. It will take about 10-15 minutes; do not let it boil! Test the curd, and add sugar if needed. The curd should be tart, but still sweet.
5. Strain curd into bowl and cover with plastic wrap pressed against the surface of the curd (otherwise a skin will form). Let curd cool.

6. Preheat the oven to 375F. Remove tartlet shells from freezer, and bake until lightly golden, about 20-25 minutes. Remove shells from heat and allow to cool slightly. Spoon lemon curd into tart shell and smooth the top. Return to oven and let bake until filling has puffed around the edges, but before the top browns, about 30 minutes. You can cover the edges of the tart pan to prevent over-browning. Cool to room temperature before serving.
7. Eat the deliciousness.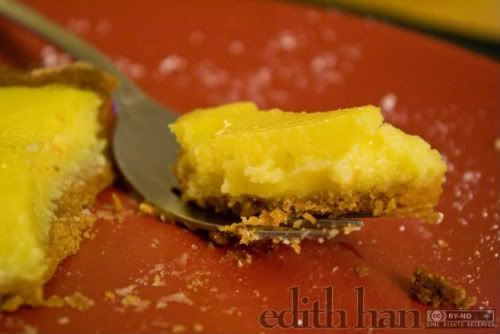 Ideas for the future? Maybe brush a layer of bittersweet chocolate on the tartlet between the crust and the lemon filling. Or perhaps a layer of raspberry jam?