This past weekend, my roommate and I went down to LA/SoCal because he had a company party for the upcoming movie
How to Train Your Dragon
(which, unbiasedly, is an amazing must-see movie!). So my opinion of LA is that there isn't too much to do in the immediate area other than shop and eat, especially because of traffic. We arrived there Friday afternoon and left Sunday morning, with the party being Saturday night, so there really was no time to take a full day to drive somewhere farther and way and go hiking, or spend a full day at Six Flags Magic Mountain (which I love, by they way. Rollercoasters = awesome.). Therefore, we did a lot of walking and eating. Oh! And running on the beach. Running on the beach is awesome. Even though, in the Santa Barbara to LA area, if you run around barefoot, you get tar spots due to the off-shore oil drilling, yuck. And also meeting people. We stayed in a hostel filled with international travelers, so we made friends with various accents, hehe. Very full of awesome.
So the next few posts are going to be about food, so much food.
First, is the
BluJam Cafe
that we had for breakfast.
I'll be honest with you, I'm not much of a heavy breakfast type of person. Sure, eggs benedicts are tasty (though, I don't like much hollandaise sauce) but I don't really love french toast, and pancakes aren't my favorite things in the world. Sure, I can appreciate them, but I prefer a lighter breakfast filled with whole grains, fruit, and some light protein like some Greek yogurt or some egg whites. (I don't understand people who can eat steak for breakfast... I mean, seriously... fill up with your daily requirement for protein and saturated fats and sodium in the first few hours of waking?) Oh, and waffles. For some reason, I'm a sucker for waffles smothered in honey.
Anyhow, the BluJam Cafe is a cozy place for a great breakfast/brunch (don't know about their food at night, but I'm sure it must be good, too). It's located in the LA area not too far from Hollywood and West Hollywood. Oh yeah, it's also a great place if you can eat enough to food a normal family of four. Their portions are generous while maintaining the quality of their food. My only wish is that there were more people there so we could try more of the food. Though, looking at all the food that was served around us, many things on their menu looked pretty darn awesome. And huge.
I had pictures of the menu that I took, which I almost feel obligated to post because while I was taking these pictures, the person on the table next to me (I think she was actually an employee that was eating breakfast there) started laughing at me and told me that I could just take a take-out menu. I said I just really like taking pictures, and then she asked if it was for Yelp!, but no, I don't Yelp! either... *awkward silence* Oh well, I won't bore you with such boring pictures (the lighting was weird anyway).
My roommate had their stuffed brioche french toast. It was a giant plate of french toast stuffed with vanilla yogurt and blackberry jam, and topped with fresh bananas and sweet berries with a dusting of powdered sugar. The french toast is nice and fluffy, and the yogurt with the jam adds a refreshing lightness to it. It also came with a side of maple syrup, but for me, the french toast was good on its own.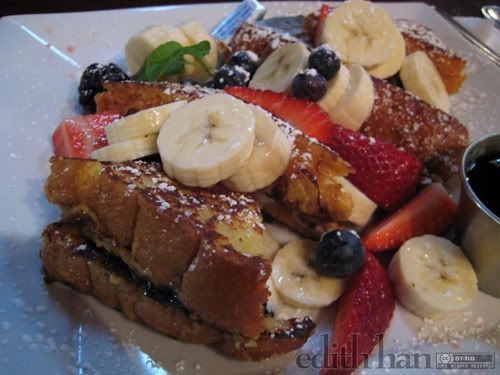 Personally, I opted for a lighter breakfast. Or, at least, what I thought was going to be a lighter breakfast. When I was waiting for my food, I was watching the dishes pass by as the waiters walked back and forth to serve other customers. I saw a giant bowl topped with fresh fruit, and I wondered if that was going to be the oatmeal.
It was the biggest bowl of oatmeal I had ever seen. Not only that, the oatmeal was piping hot (which, if you don't know me by now, I love my food so hot you can still see it boiling or sizzling) and so hearty. No, they don't serve you a big bowl of mushy oats filled with mostly water, they are serious about their oatmeal. What also made me happy is that their oatmeal was not cooked with butter. I hate it when restaurants put butter in everything. Oh! Not only that, but the oatmeal even had a slight vanilla taste that added a hint of light sweetness to the oatmeal (okay, I think it was vanilla. I spent a good portion of eating my oatmeal just trying to figure out what that extra taste was). The berries were sweet, ripe, and delicious.
In case you couldn't tell by that bowl how enormous the bowl of oatmeal was, here it is relative to me... If I look tired, it's because I was. The hostel went out as a group to go partying, and I wanted to get up early to do as much as possible.
Picture courtesy of Mike Ross.
I highly recommend anyone in the LA area to go try out this place. We went fairly early in the morning, around 9:15 or so on a Saturday morning, so the parking and seating wasn't bad at all. However, around 10:00, you could see that people were starting to pile in, so I can see it getting pretty full during brunch/lunch hours on the weekend. Come with an empty stomach and a hearty appetite. I hear the crepes are delicious as well.