So perhaps an explanation of my little cheesy bread monster is called for...
So my volcano of bread and cheese (i.e. the CHEESE SQUID MONSTER!) was an attempt of making the King Arthur's
Hot Cheese Bread
. Unfortunately, aside from amazingly tasty cheese, the bread dough itself didn't turn out well. It looked like it wasn't completely cooked thoroughly, but I don't think that was the problem... maybe I added too much gluten protein? I had substituted some AP Flour for the bread flour (since bread flour is more expensive!), and it usually works out well, but maybe I put too much? Or kneaded it too much? Not sure. Anyhow, click below for a step-by-step.
Sponge/Starter
* 1 1/4 bread flour
* 1 tsp salt
* 1/2 tsp instant yeast
* 1/2 cup cool water
Dough
* Sponge/Starter
* 1 cup + 2 tbsp warm water (90F - 100F)
* 1 tsp salt
* 1/2 tsp instant yeast
* 3 1/2 cup bread flour
Filling
* 2 1/2 - 3 cups flavorful cheese that melts well!
1. First, put all of the ingredients for the sponge/starter together, and leave at room-temperature over-night (I made my sponge at 8:30 in the morning and left it for 8 hours instead). I was a little wary of how it looked... it was really dry and different than all the other sponges that I've had before, but they warned that it would be dry, so I waited to see what would happen.
It bubbled! Sweet.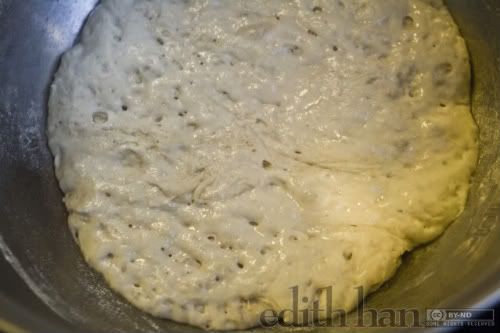 2. Next, put all the ingredients for the dough together in with the sponge, and knead until the dough is smooth. The directions and some of the comments warned that the dough was going to be wet, but I didn't quite have a problem with that... maybe that was a warning sign? I'm not sure, because other comments said that it wasn't a problem... but here it is... all hand-kneaded and pretty ready for its first rise.
3. Let the dough rise at room-temperature for 1.5-2 hours, or until doubled. It was during that time that I was debating what cheeses to use. I had two blocks of cheddar sitting in my fridge--a sharp white cheddar and a sharp yellow cheddar, but cheddar is, well, cheddar. Cheddar gets a little boring, no? So I decided to leave for TJ's and see what cheeses I could pick up. I remember loving Noah's Bagel's asiago bagels, and I also love smoked gouda, but wasn't sure how it was melted. So I picked me up some asiago and gouda!
Yum... cheese...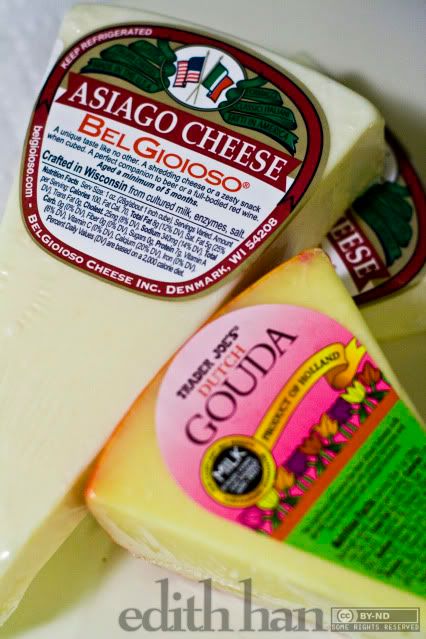 Yum... grated cheese! You'll need about 2.5-3 cups of cheese.
4. When the dough has doubled, deflated it, and roll it out to a 3/4"-thick rectangle (~9"x12"). Mist with water, and sprinkle cheese atop the dough!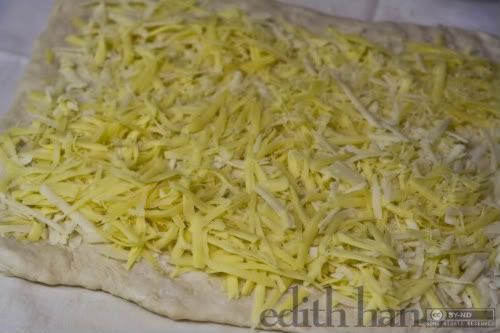 5. Starting with the long side, roll up the cheesy dough into a log shaped loaf. Place the log seam-side down on a lightly oiled or lightly floured surface.
...Look, it's a giant bread banana slug!
I'll save you from my strong urge to draw antennae on my loaf of bread.
6. Cover the loaf, and let it rise for 1-1.5 hours until puffy, but not doubled in size. In the meantime, Preheat the oven to 425.
7. Slice the loaf (in the middle for 2 large loaves, or into 4 pieces for 4 smaller loaves), and place seam-side down (if there is a seam) onto baking sheet. Spray with water and put immediately into the oven.
...Mine look like Jabba the Hutt.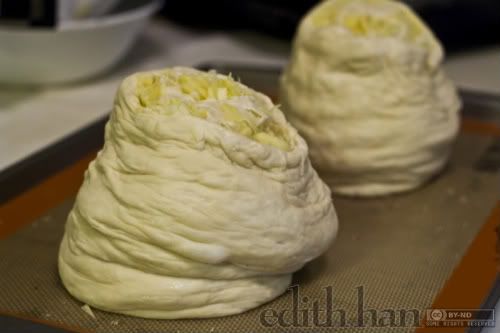 8. Bake loaves for 35 minutes (20 minutes for smaller ones) or until cheese is melted and loaves are a golden brown. Cool on cooling rack before slicing.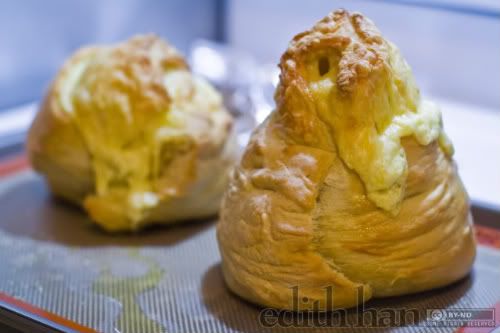 9. Take pictures of loaves under bad lighting and use Photoshop or Paint to draw on them and make captions for them.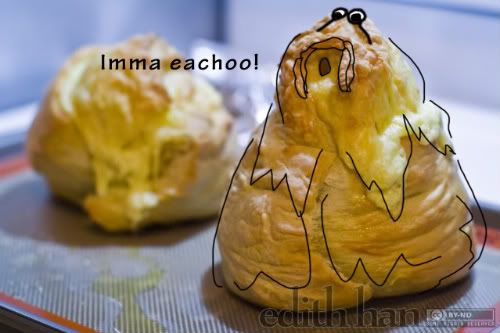 But alas, no matter how amusing you make your bread look, it doesn't necessary mean that it turned out great. :( Although there were ooey-gooey and delicious pockets of cheese melted into the bread, the bread itself wasn't great. The texture wasn't very light and fluffy, and was kind of rubbery and chewy. It makes me sad because I don't feel like I can share such a failure with other people! Therefore, only my roommate and another friend who likes cheese are allowed to have any. :P I do like the choice of asiago and gouda as the cheese filling, though.