Another restaurant review! A group of us have been trying to have a dinner out maybe once a week (or once every two weeks...), and so two weeks ago, when I was house-sitting, we all went out to the
Chocolate Sushi and Tofu House
in San Jose.
Not sure why it's called Chocolate Sushi, but the place is a Japanese and Korean restaurant, including pretty good sashimi and tasty Korean tofu soup. Click below to see more!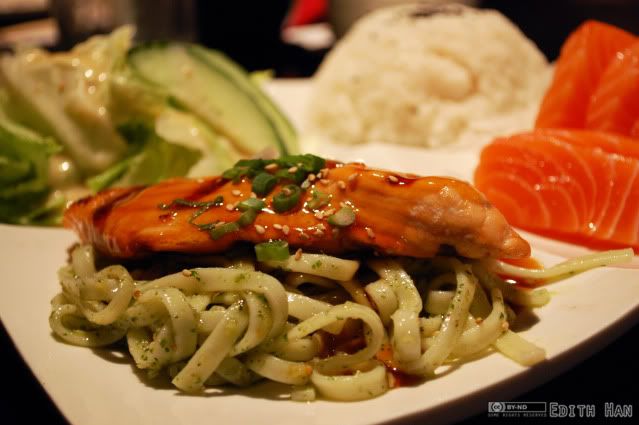 I ordered the Salmon terriyaki plate with sashimi. I love fish, and I love sashimi. The salmon terriyaki was great. The salmon was cooked well, and wasn't too dry, and the sashimi was fresh. I love the salad and the miso soup it comes with. My only complaint is that the salmon terriyaki (and the chicken terriyaki) come on a pile of oily noodles that I'm not the biggest fan of (although somebody else liked them!)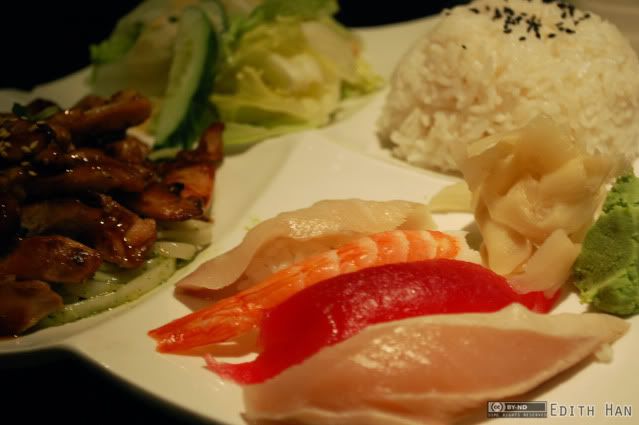 Somebody else's plate of terriyaki chicken and sashimi.
Another person ordered a special roll, the Titanic Fiery Roll, with tempura shrimp on the inside with sashimi on top with a spicy sauce over that. I'm not the biggest fan of rolls, especially ones with sauce on top, but this was pretty good, and the heat from the spicy sauce was just right as well.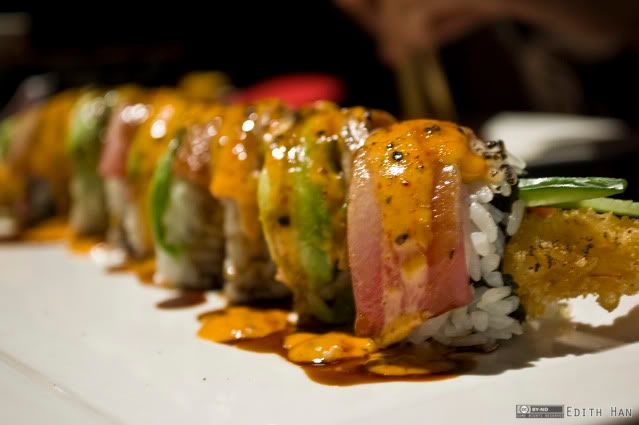 They had another dish, the Sakura Roll: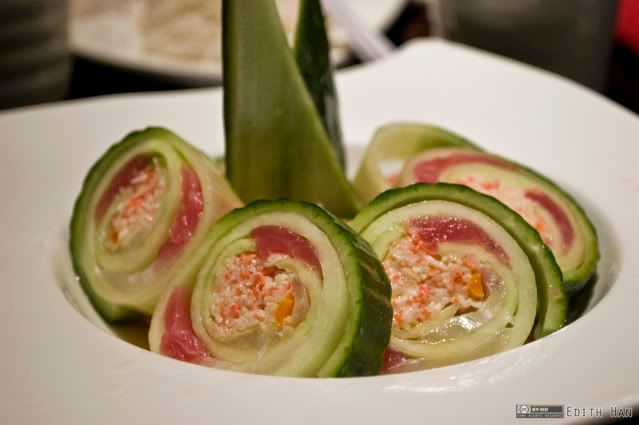 As you can see, it's (imitation?) crab and tuna sashimi rolls up in cucumber slices, so no rice and no seaweed/nori. It was not bad. I mean, it's got good stuff in it. However, it felt really lacking... It's just not sushi without rice, I guess. It was tasty, but I probably wouldn't order it again.
Anyhow, that's about it, here. We didn't go anywhere exciting the past few weeks, but there have been some baking, which I'll post here some time later. Oh, and there's a Halloween party coming up at our place... so there'll definitely be some baking then!
Until then, you can stare at the pretty Sakura roll.