Here's a little bit of non-baked vegetarian food! I was to have lunch with a grad student who had worked on the safe water and hygiene project in the slums of Mumbai--in fact, she became the head project manager. She's been locked up in her little office on campus, and has vowed to have lunch outside every day. So we met up for lunch... she's been traveling non-stop for the previous 7-8 months in India and Asia for her research, so I haven't really talked to her for a while. She's vegetarian, so I decided to make a soba noodle salad/pasta with a slightly spicy peanut sauce.
Here are some of the ingredients!
Ingredients
Soba noodles (2 bundles)
Firm terriyaki tofu (I used one block)
Zucchini (2)
Red bell peppers. (1)
First, cook the soba noodles (following the package directions: place in boiling water and cook for 4-5 minutes, drain, and rinse with cold water). While the soba cooks, cube the tofu and julienne the zucchini and the red bell peppers. Quickly blanch the zucchini and the red bell peppers if you prefer, but you can keep them raw if you like your veggies crunchier.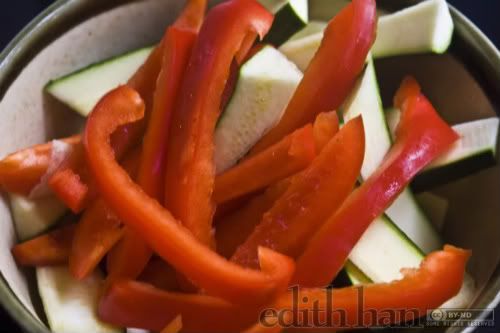 Toss all of those ingredients together, and gather ingredients for the peanut sauce.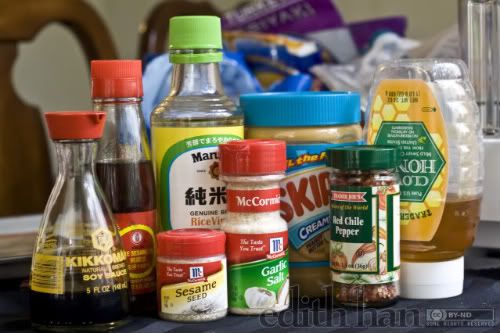 What's great about this peanut sauce is that it's to taste, so all of these measurements are approximate.
Peanut Sauce
* Smooth peanut butter: 1/2 cup
* Soy sauce: 2-3 tbsp
* Rice vinegar: a splash (~1-2 tsp)
* Garlic salt: ~1/2 tsp (or use dried chopped garlic or 1 fresh garlic clove diced)
* Red chile pepper flakes: 1 tsp (to taste)
* Toasted sesame oil: few drops (~1 tsp, be careful as it is fairly strong)
* Honey: ~1 tbsp
* Warm water: add until smooth/desired consistency
Put all ingredients in a bowl and mix until smooth. Adjust ingredients to taste.
Toss ingredients with peanut sauce. Plate/serve with a sprinkle of sesame seeds!
(Sorry for the blurry picture--didn't have a chance to get a good photo!)
What I love about these recipes is that they are all to taste, and so forgiving. Give it a try!
It's the mid-autumn festival today... go enjoy the full moon and eat some moon cakes! I'm going to try and make some tonight for the first time! There's still a backlog of things to write about, so hopefully I'll get onto it!