So for any of you living in California, or more specifically, the Bay Area... seriously, what's with the weather? Pouring rains, ridiculous humidity and mid-70s the next day, and "afternoon showers" that flood streets and burst pipes in the 5 hours it rains. Seriously? However, it has led to some great opportunities for photography and playing around with my camera.
The nights in the past few weeks have been amazingly clear, and the previous photograph and the next ones are a result from playing around with my shutter speed.
Look at how amazingly still that water is! This is the bay... all summer it was ridiculously windy, and it was definitely a lot colder at night back in July and August. Again, I'm not the biggest fan of scenic/still photography, but it's still fun to capture the weather and light is always fun to play around with... like when the sky opens up on the Bay with San Francisco in the background.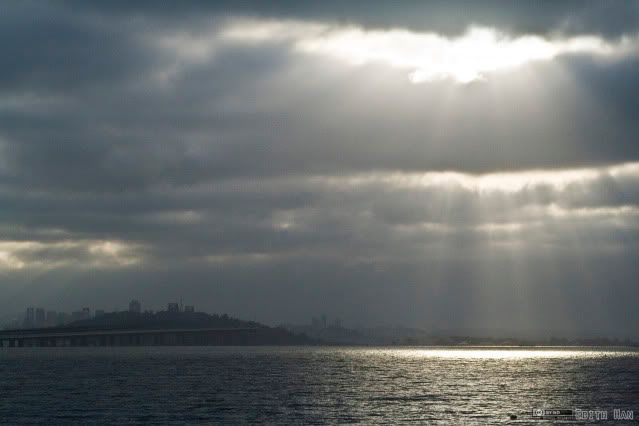 The sunset on Monday night after the afternoon "showers" was gorgeous. I was waiting at the bus stop on the way to an Owl City concert in the city, and the sunset was just so gorgeous that I couldn't resist.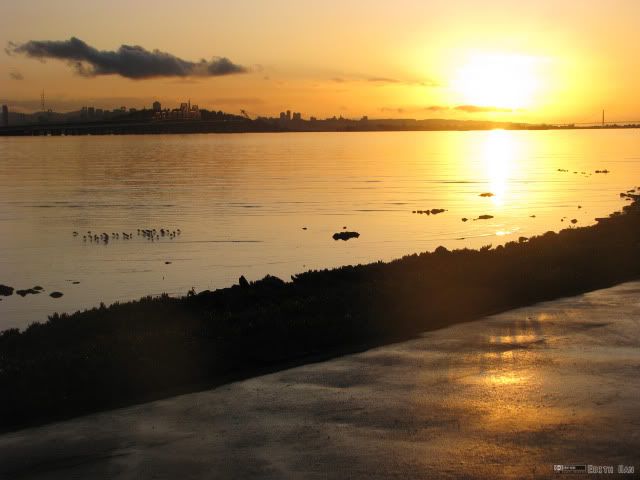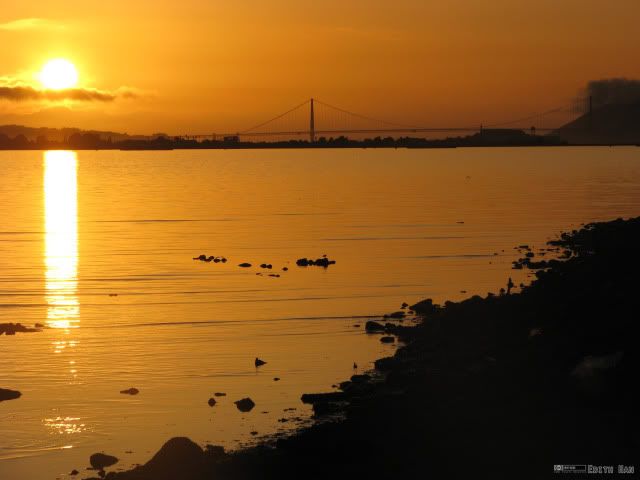 But enough pictures of the bay (I promise there won't be too many anymore... I mean, you can only have so many pictures of the same place before you get sick of seeing yet another pretty sunset or "Jesus beams."). I have a backlog of photos of the food that I baked 2 weeks ago, and I totally forgot about the cranberry cream cheese pound cake that I baked for the tea party!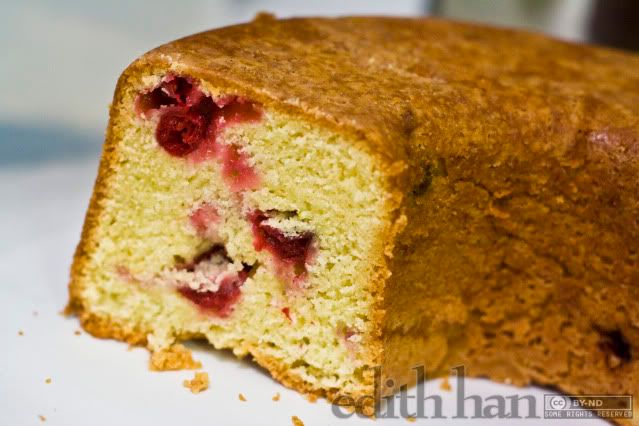 So, for some carrot cake, celebration challah, and cranberry cream cheese pound cake, click below! I apologize for the half-photographed steps, but I was in a constant rush making all of these. (Recipe for pound cake below as well!)
First, the carrot cake and the challah. I was going to a baby shower for one of my roommate's co-worker, and it was kind of a potluck, so I decided to bake something to bring... and of course, it's a party, so what's a party without cake? And of course, a pretty loaf of bread. You can read about the crazy insane weekend of baking
at a previous post
.
I made my usual carrot cake, without anything that exciting... it's basically a moist cake with a bunch of carrots without any of the extra fancy pineapple, raisins, walnuts, or what have you.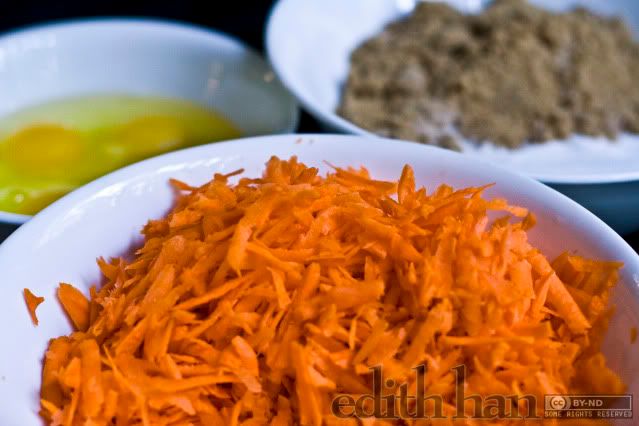 I used a basic cream cheese frosting (cream cheese, some butter, powdered sugar) and added a little bit of honey and cinnamon. Honestly, a white frosting on a flat sheet cake is not exactly the most exciting thing in the world, so I decided to make some pretty waves (still need to work on making prettier frosting) and mixed a little frosting with orange food coloring and some with green food coloring, and piped some carrots on it!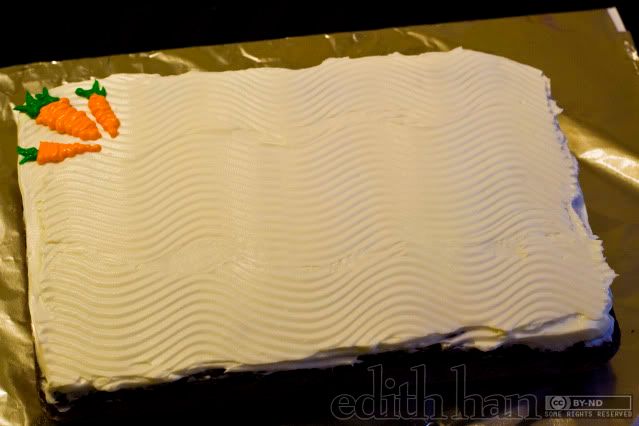 Okay, so the middle carrot looks a bit funky, but you get the idea of what it is...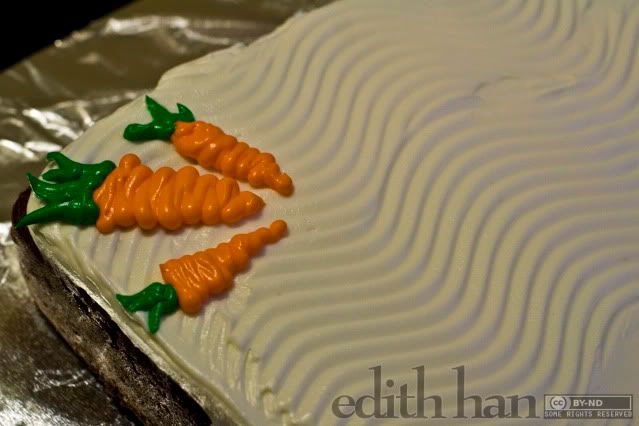 Next, I made Peter Reinhart's celebration challah loaf. I never tried his recipe, so I just crossed my fingers and hoped that it would come out well. Of course, I didn't doubt his recipe, but working with an unfamiliar recipe is always frustrating,
especially
since you can't really, well, give somebody a loaf of bread that has a slice cut out of it. The recipe made either two loaves, or one celebration loaf. The idea of the celebration loaf was slightly scary, but also sounded really fantastic, so I went with that.
The recipe itself was really nice to work with. At first, while dividing it, I really wasn't sure that it was going to be enough dough!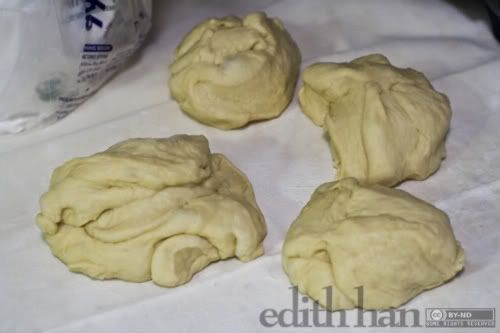 You divide the dough into 2 loaves, one 2/3 and the other 1/3 of the total dough, then you divide both of
those
into another 3 chunks, and the above picture was one of them cut into 3, and the other one still whole, and I was seriously wondering how I was supposed to braid such a small amount of dough. Still, it worked out!
Look how pretty the top loaf is! All you do is gently press the top braid onto the bottom braid, and voila, a celebration loaf! It rose nicely (though a bit lopsided for a bit), and there was an egg white wash, and I sprinkled it with sesame seeds.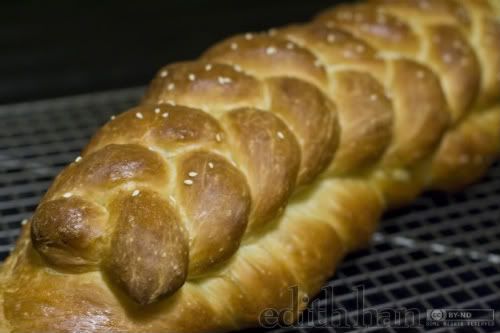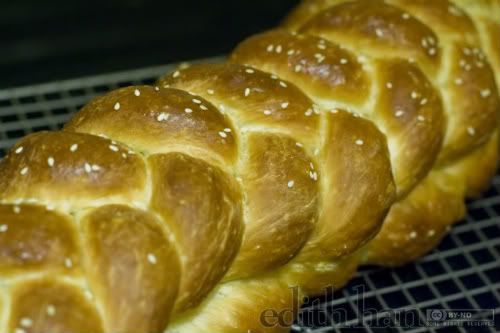 I love the look of a braided loaf. I think I'm going to try and make a 4-strand or a 5-strand loaf some time. :)
They were both a hit at the party, especially the challah. Peter Reinhart is triumphant again! And, therefore, so am I, yay.
Okay, finally is the pound cake for the tea party. We were actually SO FULL by the time the cake was done, so I just sliced it up and gave everyone a piece to take home. But, it was fantastic. ...Probably because it was so unhealthy.
I adapted the
Cream Cheese Pound Cake
recipe from
Joy of Baking
. Apparently, the pound cake originated in England, and was called a "pound cake" because it required one pound each of eggs, sugar, butter, and flour. Basically, a 1:1:1:1 ratio. The only leavening came from whipping air into the batter, until baking powder and baking soda were discovered.
One important thing is to have all your ingredients are room temperature! This allows for more air to be beaten into the batter, resulting in a lighter cake. If your batter starts to curdle while you beat the eggs in, just keep whipping it and it should smooth out when you put in the flour.
Cranberry Cream Cheese Pound Cake
Adapted from Joy of Baking
.
Makes 1 10-inch bundt cake.
Ingredients
* 1 1/2 cups unsalted butter (3 sticks) at room temperature
* 1 package 8-oz cream cheese at room temperature
* 6 large eggs at room temperature
* 3 cups superfine/castor sugar (I made my own by putting 3 cups of granulated sugar into my food processor)
* 3 cups flour
* 1 tsp baking powder
* 1/2 tsp baking soda
* 1/2 tsp salt
* 1 1/2 tbsp vanilla extract
* zest one orange
* 3/4 cups cranberries (I used frozen)
1. Preheat oven to 350F (177C) and butter and flour a 10-inch bundt pan (make sure it is well buttered and floured, or it will stick, resulting in a not so pretty cake!)
2. In medium bowl, sift (or whisk) together flour, baking powder, baking soda, and salt.
3. With an electric or a hand mixer, beat cream cheese and butter until smooth.
4. Add the sugar in 3 or 4 additions, making sure that the sugar is completely incorporated after each addition. Continue beating until light and fluffy (~4 minutes).
5. Add vanilla extract and orange zest to batter and beat well.
6. Add the flour mixture and mix until just incorporated (Do not over-beat or your batter will flatter, gluten will form, and your cake will be flat and chewy, i.e. not so good)
7. Fold in cranberries.
8. Pour batter into prepared cake pan, and bake for 1 hour - 1 hour 15 minutes (mine took a little longer--about 1 1/2 hours) until toothpick inserted into the middle comes out clean.
9. Remove cake from oven, and allow to cool and set for about 30 minutes, otherwise, the cake will collapse or fall apart if you try and take it out. Remove cake from pan and cool completely.
The cake was fantastic. The cream cheese gave a great taste and texture, and the cranberries added a nice tartness and some texture to go with the pound cake. Next time, if I have more time, I want to try and add an orange glaze to drizzle over the top, and I wonder how an orange cranberry cream cheese pound cake would be. Delicious, I'm sure.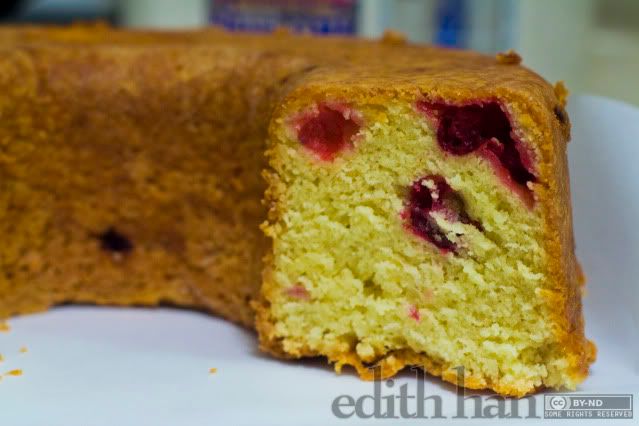 The batter performed wonderfully. The only caution I have is that this cake rises a lot! So, if you're going to be like me, and use a bundt cake pan that you're unsure of the exact dimensions and the batter is close to the top of the pan, split up the batter! Otherwise, you'll have burnt cake batter at the bottom of your oven. :( But otherwise, it was still delicious, and I would totally make again. It also makes me really want to get a prettier bundt pan. :P
Finally, I leave you with a pretty and green-ish photograph of a beautiful spiderweb with dew, because it was pretty, and I find the geometry of a spider web gorgeous, even though I'm totally arachnophobic (But only of the little ones... I love tarantulas, though...).